2010 Growth Opportunities in Contactless: Security, Authenticity and Mobile Transactions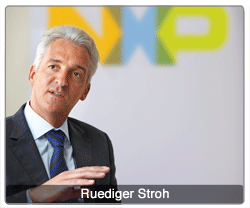 By Ruediger Stroh, general manager, Identification Business, NXP Semiconductors
As we ring in 2010, signs of economic recovery are promising yet cautious. While the path to recovery for some industries may take longer, NXP believes we will see positive growth of contactless transactions on a global scale. The below focuses on the main growth areas in contactless for 2010 including: eGovernment applications; mobile transactions and authentication.
Government ID applications have proven to be the most stable and regular revenue generator for any smart card participant during the recession. Besides enhancing domestic and international security governments around the world are working on improved efficiency in the delivery of services to citizens from social security cards to road tolling. Driving this agenda is the implementation of contactless technology to increase ease of use and security. Identity card schemes based on strong security will, for example, enable more secure transaction in the Internet. The need for digital security at system, software and hardware levels in an integrated manner will continue to grow as it remains mission critical to the government, businesses and citizens around the world.
Another key area poised for growth in 2010 is mobile transactions. According to Gartner, in late 2010, NFC-enabled phones will begin to ship in volume, with Asia leading deployments, followed by Europe and North America. Add to this recent coverage that Apple is looking into contactless for the next gen iPhone and the mobile world is buzzing. Mobile contactless applications will open a range of new services in transportation and payment to consumers. What's more, with the uptake of new form factors related to mobile transactions including contactless stickers and MicroSD cards for payment, this will only accelerate.
A third aspect of contactless that will see significant uptake in the coming year is authentication, specifically for the protection of high value products and goods against counterfeit and copyright infringement. The amount of counterfeit products, especially in pharma and consumer electronics, is rising from year to year, and software alone cannot solve this problem. Just look at Microsoft which recently banned up to 1 million Xbox Live users for fake accessories. With the growth of the personalized consumer experience and device proliferation, high value brands will continue to invest in protection from theft or counterfeiting.
The loss of IP or copyright can result in the loss of billions of dollars, and on average U.S. businesses lose $200 to $250 billion a year due to counterfeiting. In response to this authentication offers different flavors of security where the value of the asset or resource being secured will dictate the type of authentication solution employed. This can vary from a simple RFID tag to indicate authenticity in the supply chain to the use of sophisticated semiconductor and software solutions that are tamper and attack resistant.
In the pharmaceutical industry, for example, the ePedigree is the electronic tag attached to medicine to protect consumers from contaminated products or counterfeit drugs. Additional products from consumer devices such as printers, gaming, batteries for mobile devices, engine management systems and essentially any product where an IP owner wishes to protect that IP or brand fit into the authentication bucket.
In summary, 2010 presents ripe opportunity in contactless innovation and investment for those that know where to look and spot the trends. In terms of challenges, for the above opportunities to materialize there is a need for immediate and sustainable alignment in the ecosystem. It is essential that end-to-end partners drive technology components and usage patterns in the various markets and deliver on the consumer promise of contactless transactions as secure, easy to use and intuitive applications that improve lives.
About the AVISIAN Publishing Expert Panel
At the close of each year, AVISIAN Publishing's editorial team selects a group of key leaders from various sectors of the ID technology market to serve as Expert Panelists. Each individual is asked to share their unique insight into what lies ahead. During the month of December, these panelist's predictions are published daily at the appropriate title within the AVISIAN suite of ID technology publications: SecureIDNews.com, ContactlessNews.com,CR80News.com, RFIDNews.org, FIPS201.com, NFCNews.com, ThirdFactor.com, and DigitalIDNews.com.