Access doors and windows with a single contactless card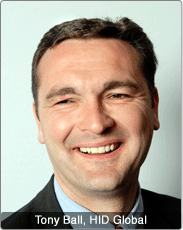 By Tony Ball, senior vice president, sales and marketing, Identity and Access Management, HID Global
Over the years, companies and organizations have been using multiple methods to provide people with secure access to their facilities and computer networks. Historically, building access and network access have been separate, requiring employees to carry multiple cards to enter doors and use multiple passwords or PIN numbers to access computers and networks. This has not only produced systems that are unwieldy but also that are difficult and costly to manage.
Use of a single card that can identify a person to the computer network, as well as access a door, has been discussed for a long time. Going forward, however, we will see convergence between logical and physical access applications become reality. Why now? Ultimately, it's due to several key market trends.
First, infrastructures at the card and network access levels were previously not really in place. But today, certain native card applications can run within an operating system environment, enabling use of cards or tokens to access networks. This has allowed a true convergence to take place, enabling a common card to provide both physical and logical access.
Next, there is a trend toward access control systems being resident applications on an IT network. What were access controllers are now fully networked access appliances. Common policies, roles and definitions that can be assigned to both physical and logical networks can also manage the appliances through the IT network.
Finally, end users are increasingly seeking new and better ways to address compliance issues and improve their business processes while leveraging their existing infrastructure investments to keep costs to a minimum.
Given the wide range of physical access cards and systems available, what options do end users have to cost effectively merge physical and logical access on a single card?
Currently, there are sophisticated, higher-end solutions available for organizations that operate in high-risk environments and have higher-level security needs. Going forward, however, industry leaders like HID Global will take steps to make converged card solutions available to meet the more basic needs of small- and medium-sized businesses.
These solutions will enable organizations to leverage their existing infrastructure of cards and readers to deploy logical access control, regardless of whether they are currently using contact or contactless technology, or both. As such, a company will be able to add a single comprehensive desktop access solution that addresses its specific needs without needing to re-badge the entire organization.
Converged logical and physical solutions on a single card have been talked about extensively. But with opportunities to utilize existing bases of access cards, coupled with the convenience and cost-effectiveness of new solutions, widespread adoption of a single card for physical and logical access will result.
---
About the AVISIAN Publishing Expert Panel
At the close of each year, AVISIAN Publishing's editorial team selects a group of key leaders from various sectors of the ID technology market to serve as Expert Panelists. Each individual is asked to share their unique insight into what lies ahead. During the month of December, these panelist's predictions are published daily at the appropriate title within the AVISIAN suite of ID technology publications: SecureIDNews.com, ContactlessNews.com, CR80News.com, RFIDNews.org, FIPS201.com, NFCNews.com, ThirdFactor.com, and DigitalIDNews.com.