Advisory Committee: 'Comprehensive ID management' needed in U.S.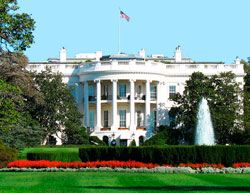 The President's National Security Telecommunications Advisory Committee has released a report calling for changes in identity management in the U.S. The committee is part of the U.S. Department of Homeland Security and advises the President on emergence and preparedness of telecommunications.
"A need has emerged for a national, comprehensive identity management strategy that would recognize and protect the roles and interests of private citizens and commercial participants while enabling collaboration among key stakeholders," the report states.
As the Internet is used more and more for communication there is a need to reliably identify individuals. Because of this there is a need for a federation of interoperable ID management systems. "Such a federation of interoperable ID management processes would enhance identity trust, awareness and education among end users, providers and devices. This federation would strengthen trust relationships and enhance the nation's security."
The federates model would involve three characteristics: interoperability; Trust Anchors, those who verify identities; and choice-based participation.
The committee made three recommendations to the president:
Demonstrate national leadership in ID management to influence the national culture, attitude, and opinion. "Successful development and implementation of a national ID management vision and strategy requires national commitment across Government, industry, and individuals dependent on cyber applications."

Charter a national ID management office appointed and dedicated leadership, in the Executive Office of the President. "This office must have powers to integrate and harmonize national ID management policies and processes, including those related to law enforcement and security, as well as physical and logical access controls. This office should seek active private sector participation in developing such policies and processes in order to succeed and to ensure that successful solutions are shared with the private sector, as appropriate."

Direct the new office to develop a coordinated programmatic agenda to implement a comprehensive ID management vision and strategy to address, four component areas, specifically: Government organization and coordination; public-private ID management programs; policy and legislative coordination; and national privacy and civil liberties culture. Because no existing government office or organization is engaged in all areas and issues across the total scope of ID management, new approaches are required to harness the expertise and interests across all areas.
The full report can be downloaded here.