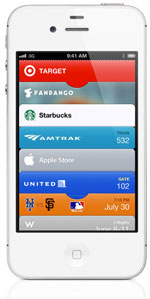 Apple announced that it's adding a wallet feature to the latest iOS for iPhones, the company revealed at the Worldwide Developer's Conference.
Users will be able to load airline boarding passes, movie tickets, retail coupons, loyalty cards and others in one place. Once a consumer had downloaded the coupon or ticket it will show up as a QR code on the phone which can then be scanned.
"Wake your iPhone or iPod touch, and passes appear on your Lock screen at the appropriate time and place–like when you reach the airport or walk into the store to redeem your gift card or coupon. And if your gate changes after you've checked in for your flight, Passbook will even alert you to make sure you're not relaxing in the wrong terminal," Apple describes.
While the system uses QR codes now, Gizmodo.com predicts that this may be a sign that the next iPhone may include NFC technology and added payments functionality.
Read the Gizmodo post here.