Australia man dumps the key ring for RFID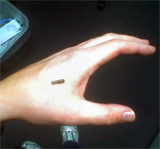 A man in Perth, Western Australia has placed an RFID implant in his right hand, giving him keyless entry to his home and automobiles, reports The Sydney Morning Herald.
Joe Wooller, a 28-year old father of two, had a passive RFID chip surgically implanted in June of this year. "The goal was really just to get rid of keys and to try to minimize the amount of clutter one would have in their pockets," he said.
With just a swipe of his hand, Mr. Wooller can open the two doors to his house, his car and even start his motorcycle. "Just being able to jump on it and go for a ride [without keys] is pretty good," he said. He does however still need a key to take the fuel cap off his motorcycle.
The process of getting the chip implanted was said to be fairly simple. A doctor administered a local anesthetic and the procedure was performed so that Wooller could even watch.
Read more here.