Bay Area's TransLink sees its 16-year one card goal within reach

Some agencies holding out but vast majority are online
By Andy Williams, Associate Editor, AVISIAN Publications
TransLink appears poised to finally live up to the scenario first imagined 16-years ago of providing San Francisco Bay transit riders one card that would be good on all 24 agencies serving the area.
The one card is now operational at five of the area's transit systems, two which handle 75% of the daily ridership. That would include San Francisco Municipal Transportation Agency, known simply as Muni, and Bay Area Rapid Transit (BART), as well as three smaller agencies, AC Transit (Alameda-Contra Costa), Caltrain and Golden Gate Transit.
The only exception to that list are San Francisco's famed cable cars operated by Muni, which have not yet been outfitted with readers, says Jake Avidon, TransLink senior program coordinator for the Metropolitan Transportation Commission, Oakland, Calif.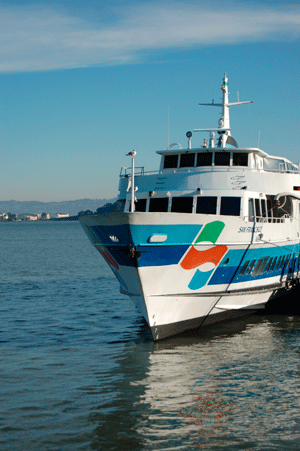 Together these five systems represent 80% to 85 % of Bay Area transit riders, says Avidon.
Even as little as a couple months ago things looked gloomy for TransLink, which has suffered delay after delay since its inception 16-years ago. In the words of one reporter, writing in the Contra Costa Times in June, TransLink "has lurched along more slowly than a broken-down bus, suffering cost increases and delays."
The holdout was BART with its 116 million riders a year. So it was with obvious relief when the Metropolitan Transportation Commission, which funds TransLink, declared earlier this year that the TransLink card was "revenue ready" for BART. MTC called it "a major contractual milestone signifying that TransLink has successfully passed all laboratory and field tests."
BART important to TransLink's success
What makes BART so critical to TransLink's success is that many of BART's routes overlay transit routes of other agencies, which means many users ride one vehicle from another agency, then have to transfer to the BART system, says Avidon.
In August BART launched what it called a "limited rollout" of the TransLink card on its transit system. About 1,000 users of EZ Rider–BART's contactless fare card–were invited to participate. Limited or not, according to BART, anyone can order and use a TransLink card during this pilot phase as long as it's loaded with sufficient e-cash. BART also suggested that passengers should bring, as backup, other means of payment such as BART's EZ Rider card, a preloaded contactless ticket, or cash.
When it announced the TransLink soft launch, BART stated that it intends to phase out EZ Rider by September 2010. However, BART will continue to enable customers to pay for parking with EZ Rider until TransLink makes the jump into that area. Initial plans call for the TransLink card to be usable in five parking garages, all run by Muni, next year, says Avidon.
Even with the two biggest operators online, riders haven't yet made a massive leap to the new card. TransLink's August figures show an average 37,000 daily riders, a long way from the 700,000 riders TransLink expects to eventually serve.
"Even though the system is up and running, the agencies are soft launching. They're not yet marketing the program to the public in an aggressive manner," explains Avidon.
TransLink is funded by MTC, the transportation planning, coordinating and financing agency for the nine-county San Francisco Bay Area. TransLink itself is managed by a consortium of most of the agencies in the Bay area and MTC. The six major ones plus a couple of others get a vote, says Avidon. MTC is overseeing implementation of TransLink, he says.
TransLink–a little history
The initial pilot for the concept of one card actually began in 1993 with the only technology widely available then, a mag stripe card. It barely got off the ground. "The mag stripe readers did not work properly," says Avidon. "From a technology point, it was a failure."
Returning to the proverbial drawing board, TransLink then looked at smart cards, says Avidon. A contract was signed in the mid-90s with Australian transit operator ERG, now Vix ERG. "We turned on that pilot in February 2002 and ran it for a couple years before the concept was approved and we then moved forward with a full rollout," says Avidon. In the meantime, ERG's U.S. assets were purchased earlier this year by Cubic, San Diego, Calif., which inherited many ERG projects including TransLink.
Despite a full rollout on the horizon, things still weren't flowing smoothly. One source said the reason for the delays was "bureaucratic in-fighting." Avidon puts it this way: "I think it was a mix of technical challenges and multi-agency decision making. Agencies all have unique business rules and unique transit arrangements, for example auto loads and senior discounts. The sheer technical complexity contributed to this. Then you have the problem of coordinating operating policies."
The other holdup has been money. What was expected to cost just $4 million back in 1993 is now forecast in TransLink's 25-year capital and operations budget to total about $338 million.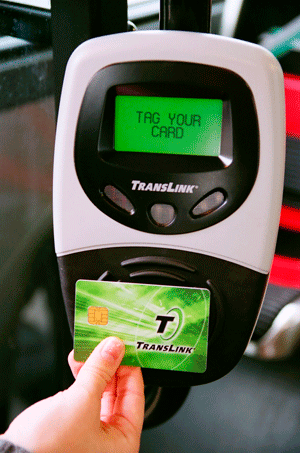 The TransLink card
The card comes with an optional auto load feature that is topped up when it drops below a certain balance. "You can also add value over the phone or at the Web site on a one-time basis or at vending machines or one of the retailers in the TransLink network," he says. There are 200 locations, but Avidon says that will eventually grow to 400.
The card has contact and contactless chips so it can work with legacy systems, but it will be shifting to contactless only in the next year, says Avidon. In fact the only way to add value right now is with the contact portion of the card, he says. Translink will be swapping out hardware so the contactless portion of the chip can be used to add value.
The first batch of the TransLink cards, about 182,000, were supplied by French smart card provider ASK. The next order will be for 650,000 cards with delivery expected in early 2010. A supplier for that order hasn't been chosen yet, says Avidon.
On deck for Translink
Technology is moving fast and other transit bodies, including MTA in New York, BART and Utah, have explored other payment methods including allowing riders to use a contactless credit cards and NFC-compliant phones.
"We do follow developments and trends in the industry, but TransLink has no specific plans to begin accepting contactless credit cards for transit fare payment," says Avidon. "Similarly with NFC phones, we follow the developments in the industry and one of our project partners, BART, has tested this technology for a BART-only application, but TransLink has no specific plans to integrate with NFC-compliant phones."
Today it seems the focuses is on growth as more agencies are expected to begin accepting TransLink cards throughout 2010 and into 2011.
Caltrain was the latest agency to sign on, joining the system in August, says Avidon. The next two agencies expected to come online are SamTrans (San Mateo County Transit District) and Santa Clara Valley Transportation Authority. After those two, the system is planned to expand to an additional 19 smaller transit bodies in nine counties," says Avidon.
Avidon himself can attest to the benefits of just one card. "My daily commute involves two agencies which meant I had to have two cards, and I only went four miles," he says. "Now I have TransLink."
---
TransLink by the numbers
Bay Area ridership, 2007-08
Total Passengers: 494 million
Average Weekday Ridership: 1.6 million
Region's transit vehicle fleet
Ferry Boats: 13
Cable Cars: 40
Vans: 252
Light Rail Vehicles: 281
Trolley Buses: 356
Rail Vehicles: 838
Motor Buses: 2,771
Total Vehicles: 4,551
Ridership by vehicle, 2007-08 (Riders per year)
Bus: 231.4 million
Trolley Bus: 67.5 million
Cable Car: 7.1 million
Light Rail: 52.3 million
Heavy Rail (includes commuter rail, rapid transit): 128.5 million
Ferry: 3.5 million
Total: 486.8 million
Source: MTC's Statistical Summary of Bay Area Transit Operators
Note: Paratransit figures not included in any of these totals.