Germany taps NXP for national ID smart card chips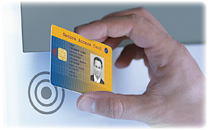 NXP Semiconductors announced that its SmartMX secure contactless microcontroller chip has been chosen to power the new German contactless National Identity card.
The German government has selected NXP as the supplier of an inlay solution containing a SmartMX chip, packaged in an ultra-thin module. Issuance of German contactless ID cards, which will replace the current paper-based IDs, will start in November. More than 60 million cards are expected to be rolled out over the next ten years.
Following the successful introduction of electronic passports in more than 88 countries, where NXP-based solutions are used in more than 75 countries, national ID cards have been identified as the next major application in the public sector market.
Equipped with a new communication protocol, the contactless ID card will enable secure e-government and e-commerce services while protecting against identity theft and identity tracking. Only trustworthy service providers will be able to access ID card data once authorized by the citizen, ensuring privacy, as well as authenticity of data for service providers.
More than 150 companies are working to prepare for the roll-out of the new ID card, and participating in trials to offer services such as online banking, registration for online shopping, airline passenger check-in, online tax declaration and car registration. The new German ID card can also be used as a travel document within the EU – and to some other countries such as Tunisia, Morocco and Egypt – instead of a passport.
NXP's SmartMX chip platform is made up of a number of unique security features to guard against reverse engineering and attack scenarios with light and lasers, as well as a dedicated hardware firewall to protect specific sections on the chip.
In addition, the ICs provide faster read-and-write capabilities due to optimized hardware and software. NXP's SmartMX chips can be delivered in the industry's thinnest 250µm chip package, making it suitable for a wide variety of contact and contactless e-government applications.