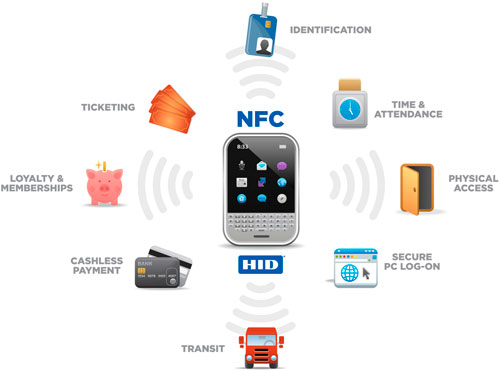 HID Global has partnered with Inside Contactless providing software so iCLASS credentials can be emulated on MicroRead NFC chips.
Tam Hulusi, senior vice president of strategic innovation and intellectual property at HID, says NFC technology hasn't always been a sure thing but now it appears that a number of factors are coalescing to bring NFC to market. "NFC has been up and down the past few years," he says. "Now everyone understands that NFC has to be supported by smart phones … and smart phones with higher bandwidth can make NFC a reality."
The credentials will be delivered to the devices via HID's Trusted Identity Platform, Hulusi says. The platform is an identity system that verifies all points in a system or network so that transactions can be trusted. The Trusted Identity Platform was announced at the ISC West show in March.
While there have been many NFC trials most of them have focused on payment or transit applications. HID is going to focus on its NFC technology being used in the physical access control space, Hulusi says.
"Anything you can do with a physical card you can do with a virtual card," Hulusi says. "And even more because you have the Internet on your phone. The opportunities are endless"
The iCLASS virtualization application for NFC devices will also enable secure PC log on, time and attendance monitoring, equipment and material checkout, authorized access to office equipment and manufacturing machinery, private label retail payments, prepaid transit passes and customer loyalty and membership programs.
HID will be making other announcements regarding NFC and the Trusted Identity platform later this year, Hulusi says.