Judge dismisses Michigan farmers' 'mark of the beast' lawsuit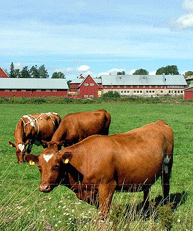 A federal court has ruled in favor of the state of Michigan and the U.S. Department of Agriculture (USDA) over a group of Amish farmers protesting the mandatory use of RFID tags in their cattle.
The lawsuit was filed against the Michigan Department of Agriculture (MDA) and the USDA in 2008 by the Farm-to-Consumer Legal Defense Fund on behalf of a group of Michigan based Amish farmers who felt that the state mandated use of RFID tags violated their religious freedom and that the tag itself constituted a form of the "mark of the beast."
In accordance with the USDA's National Animal Identification System, a law implemented in 2003 requiring the identification of each animal on a farm in order to trace diseased animals back to their source, the MDA began requiring in 2007 that all Michigan cattle be identified with RFID tags to prevent the spread of Bovine tuberculosis.
The court dismissed the action against the USDA, citing that the National Animal Identification System does not require that the method of identification be electronic (tattooing, branding and non-electric tags are still accepted forms of identification). Furthermore, the court found that USDA rules allow states the right to "choose to keep premises registration voluntary or not, based on local needs."
The court also dismissed the charges against the MDA, citing that the MDA tagging program is a state regulation and is therefore subject to state laws, not federal laws.
Read more here