Qantas sets up shop to sell Q Bag Tag, streamlines luggage check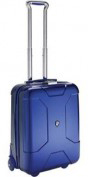 Qantas Airways has opened its first retail establishment to sell the recently introduced Q Bag Tags, according to Voxy. The "Q-Tag" is an RFID-based tracking chip which syncs traveling passenger's bags with their boarding pass information, ensuring proper delivery.
Initially, the Qantas kiosk will be located in the Sydney Qantas Club. It will remain in Sydney through July and August and relocate to Melbourne for September and October and then move to Brisbane in November and December.
The Q Bag Tags will retail for $49.95 to the general public, and the company is offering its Qantas Club members and their guests a special deal with a "buy one get one free" offer until December.
Read more here.