Scientists displays new surgical instrument embedded with RFID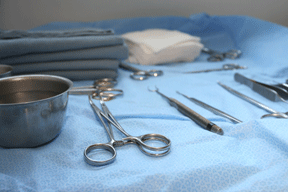 Researchers from the Fraunhofer-Gesellschaft will be exhibiting a surgical instrument with an integrated electronic chip at this year's MEDTEC Europe trade show in Stuttgart.
The Bremen-based scientists will be presenting the technique that is laser melting, which enables the manufacture of surgical instruments of any shape, even those with complex interiors like channels, or those with integrated RFID chips.
Every operation requires a wide variety of surgical instruments, from simple retractors, clamps, scalpels and scissors to more complex devices such as cerclage wire passers, which surgeons employ to repair long, oblique fractures in bones.
This laser melting technique permits these customized tools to be manufactured in a single step and also allows the integration of additional new functions such as RFID.
Hardly any material is wasted and no production-related restrictions are placed on the shape or interior structure of the surgical instrument. The designer can focus solely on the surgeon's stated requirements.
After every operation, surgical instruments must be cleaned and all accounted for. If they had integrated RFID chips, quantities could be checked quickly and easily and could be electronically linked to the operation report or to specific instrument data such as date of manufacture, protocols for use or current state of cleanliness.