Three challenges to unlocking an NFC world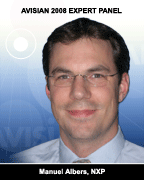 Manuel Albers,
Director, Regional Marketing Americas, Identification,
NXP Semiconductors
Near Field Communication (NFC) has been steadfastly moving towards mainstream since its inception in 2002. In the US, expect 2008 to be the year that NFC breaks out and changes the way consumers live, work and pay. Here's what to look for in the coming months…
When I talk about the NFC landscape, I am constantly asked what is the key trigger that will set off the chain of roll-outs we have all been expecting? I think that trigger has already been pulled and in the next year or so the question for many operators is not if they will implement NFC solutions, but when. With the forming of Moversa, a new joint venture between Sony and NXP Semiconductors, another critical step in the chain toward the commercial availability of NFC has been linked.
As a company, Moversa will drive the global adoption of contactless smart card applications by producing chipsets supporting both Mifare and FeliCa, the two most widely implemented contactless technologies. This venture is expected to lead to simplified and lower-cost integration of mainstream contactless protocols into NFC phones.
As the use of contactless solutions in mobile payments and transport ticketing expands globally, consumers will be able to easily, quickly and securely access content and services via their mobile handsets.
But, it takes more than a great technology solution to change the way consumers pay. What we have learned is that it takes a complex ecosystem of providers, handset makers, carriers, retailers, suppliers, public transport authorities, governments and a whole melee of parties to deliver the kind of simple and intuitive technology that consumers are seeking. That kind of change does not happen overnight and it is far from simple. So what are the challenges ahead?
Right now the market is fragmented and leveraging established contactless infrastructure choices in deploying NFC applications will be critical. In Asia and Europe, proliferation of the use of contactless technologies will be driven by transport. In the US, however, mobile payments will be the market driver, with 2008 being the year that the first commercial roll-outs of NFC are expected to hit. Universal standards and mandatory security evaluations for payment applications across different regions will shape handset architectures, trust provisioning infrastructure and roll-outs.

Market implications. Segmenting the pie and demonstrating the true ROI of NFC will lead to the need for carriers, banks and retailers to carefully examine where and how to implement NFC technology. Defining revenue streams from new applications–like buying a movie ticket through your mobile phone via an NFC-enabled poster–will be easy for consumers but requires that payment, and ticketing be streamlined. Network operators already recognize that solutions such as NFC enable them to add greater value and added services to respond to decreasing voice sales and are eager to implement new revenue streams.
In conjunction with this, the movement in mobile banking will be symbiotic to the growth of mobile payments. Looking at market size, by 2010 close to 35 million US consumers may use mobile banking features compared to 1.7 million in 2007 (Aite Group, 2007). We believe a good number of these transactions will be contactless. Jupiter Research estimates that worldwide payments by mobile phone may reach $22 billion USD by 2011 with a compound annual growth rate of 82% from 2007 onwards.
Ramping up to demand. ABI Research predicts NFC-enabled mobile phones will reach 292 million units in 2012, roughly 20% of handsets that will be sold that year. Based on the market size, rapid infrastructure implementation will be critical to executing the commercial roll-outs of NFC in the U.S. and overseas. Once initial roll-outs begin in the US, the implication is that NFC will act as a market driver in the smart card industry enabling service providers, such as mobile phone operators, transportation network operators and credit card companies, to accelerate the roll-out of even more advanced contactless services to mobile phone users. In order to keep up with the market, mass adoption will require a well thought-out time-to-market approach for vendors.
So what are things to look for in the future from this technology? One is continued innovation and implementation of new applications to make use of this new technology, as developers begin to enrich the application space and come up with new and creative uses for NFC.
From a technology perspective, some interesting trends we see include the use of NFC in applications ranging from printers to digital photo frames to NFC-enabled grocery shopping, where products can be bought and paid for on-the-go. By simplifying the digital Bluetooth, WiFi, and/or Wireless USB pairing, NFC will also complement companion products that have already been successfully implemented into the mass market. The possibilities here are endless.
Getting NFC into the hands of consumers has been a long journey but since its birth in 2002, strong partnerships have been built along with an entire ecosystem of members from handset makers to banks. The NFC Forum, since its inception, has grown to over 110 members, and represents strategic partnerships with the leading companies around the world. As the contactless infrastructure at POS continues to emerge in all regions–such as the MasterCard PayPass, Visa payWave, and Amex Blue–growing evidence indicates that the stage has been set for an NFC-enabled world, and that the trigger of inevitability will take its course.
---
About the AVISIAN Publishing Expert Panel
At the close of each year, AVISIAN Publishing's editorial team selects a group of key leaders from various sectors of the ID technology market to serve as Expert Panelists. Each individual is asked to share their unique insight into what lies ahead. During the month of December, these panelist's predictions are published daily at the appropriate title within the AVISIAN suite of ID technology publications: SecureIDNews.com, ContactlessNews.com, CR80News.com, RFIDNews.org, FIPS201.com, NFCNews.com, ThirdFactor.com, and DigitalIDNews.com.