UK's Stansted Airport deploys biometric e-passport gates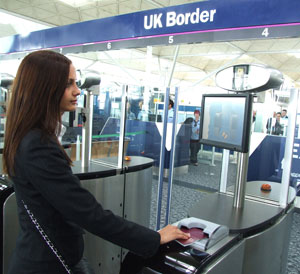 Stansted Airport has rolled out its new facial recognition security gates, which use document scanning from 3M.
Passengers with new biometric e-passports travelling to the UK via Stansted can use the Autogates being trialled in the arrivals area, which can scan their face and check their passport photo in seconds – helping to save time waiting in line.
The Autogates use the 3M RTE8000 Full Page Scanner to validate British or European e-passports with an electronic chip and are helping the UK Border Agency process passengers more efficiently.
A live image of the passenger standing at the gate is captured and biometric technology then compares this with the image stored on the chip embedded within the document by measuring specific facial points – regardless of changes due to weight gain or loss, for example. If there is a match and they clear security, the automatic gates allow the traveller across the border.
Stansted Airport handles around 23 million passengers annually. The trial at Stansted is being run in partnership between the UK Border Agency and airport operator, BAA.
Following the trial, the UK Border Agency is expecting to roll-out Autogate systems to 10 additional UK airport terminals as part of the new £1.2 billion e-Borders system helping the UK Border Agency target terrorist suspects, known criminals and would-be illegal immigrants.