2012 – An exercise in mobility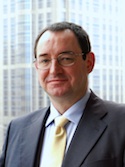 Most consumers are comfortable with the concept of a mobile phone as a secure, multifunctional device. It is this consumer acceptance, coupled with technological advancement, which make the 2012 market conditions ripe for greater expansion in mobile services.
The rich user interface offered by smart phones provide a number of options for device interaction, including full QWERTY keyboards, interactive touch screens and voice recognition systems. The availability of these options increases the scope for the phone's potential use.
Combine these with the number of connectivity options available – near field communication (NFC), wi-fi, over the air, Bluetooth – and it quickly becomes apparent that we have only just begun to realise the potential for all manner of consumer services. Success for 2012 will come from effectively securing these services as they emerge.
Standardization of the TEE
By their very nature, phones are not as secure as cards. Yet. The industry is responding to an increase in malware by working to standardise the trusted execution environment (TEE). The TEE is a secure area that resides in the main processor of a mobile device, ensuring that sensitive data is stored, processed and protected in a trusted environment. GlobalPlatform's work to standardize the TEE will offer greater security to the end user and industry stakeholders, allowing the secure deployment of a plethora of new mobile payment services.
Cross-industry collaboration
The technology is, however, only one piece of the jigsaw. Another key challenge for 2012 will be for the key stakeholders to establish cross-industry relationships where none have existed previously. Greater collaboration is needed to avoid fragmentation of the marketplace. Next year we will see more alliances forming, between banks and mobile network operators, for example, in order to develop a sustainable mobile ecosystem that will lead to the deployment of payment solutions.
Trusted service management: in-house or outsourced?
More industry players will decide whether to form relationships with a trusted service manager (TSM) or adopt the task themselves. A TSM sits at the heart of the ecosystem and enables the provisioning and management of mobile NFC-based applications for itself and/or third parties. Companies, banks, governments, network operators and other stakeholders will take the decision to either provision their trusted services by managing registration processes and outsourcing the operational provisioning for mobile applications or opt to become TSMs in order to reduce operational and ecosystem complexity.
Biometric security
In personal identification, 2012 will see the increasing introduction of biometric technology into mobile devices. Fingerprint scanners have been incorporated into some mobile devices – as with laptops – for some time but with an ever increasing volume of personal and business data being carried in pockets, tightening access control is vital.
Smart phone HD cameras are also increasingly capable of supporting iris scanning. This form of authentication could easily be transferred to mobile devices replacing numeric logins.
Introduction of secure reader applications
There will be increasing use of mobile devices as secure readers for contactless cards to view smart ID, license and entitlement credentials. An implementation case could see embassy workers operating off-site, needing easy and convenient access to details stored on a citizen's chip-based passport/ID card. This technology will increase convenience greatly enabling faster identification.
Large scale roll outs
Finally, 2012 will be the year of large scale mobile NFC service roll outs. We will see increasing use of mobile NFC for transit cards (e.g. Dubai), ID (e.g. Canada) and contactless (EMV) payment worldwide. The technology is in place to make these things a widespread reality; it is now down to the industry players to come together and make it happen.
However, without on-going advancement in mobile security such as the standardisation of the TEE, and adoption of commercially viable cooperation models across the industry, it will be difficult to quickly reach a sustainable and interoperable ecosystem.
So far, things remain on track for significant sector revenue growth, but maintaining success throughout 2012 will require 10% inspiration and 90% collaboration.
About the AVISIAN Publishing Expert Panel
At the close of each year, AVISIAN Publishing's editorial team selects a group of key leaders from various sectors of the ID technology market to serve as Expert Panelists. Each individual is asked to share their unique insight into what lies ahead. During the month of January, these panelist's predictions are published daily at the appropriate title within the AVISIAN suite of ID technology publications: SecureIDNews, ContactlessNews, CR80News, NFCNews, DigitalIDNews, ThirdFactor, RFIDNews, EnterpriseIDNews, FinancialIDNews, GovernmentIDNews, HealthIDNews, FIPS201.com, IDNoticias es.