2degrees, Snapper launch NFC payments in NZ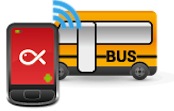 Mobile operator 2degrees has partnered with contactless transit card provider Snapper to bring NFC payments to the city of Wellington, New Zealand.
The new "Touch2Pay" service is now available on 2degrees' LG Optimus Net phones, which can be used to make tap and go payments wherever Snapper cards are accepted, including buses, taxis, shops and cafes.
Touch2Pay customers can also use their mobile phones to add money directly to their Snapper accounts, which can hold a balance up to NZ$300 (US$235.75).
The 2degrees LG Optimus Net (NZ$299) is the first Touch2Pay capable handset. The operator says it will offer more Touch2Pay handsets at different price ranges throughout the year.
"Snapper is a way of life in Wellington," said Miki Szikszai, CEO of Snapper. "We are really pleased to be working with 2degrees to make this product even better."
Check out the video to see Touch2Pay in action: