3GSM Conference to showcase NFC pilot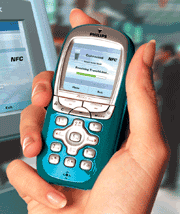 Philips and a Spanish mobile operator will demonstrate NFC technology by providing select attendees at the 3GSM World Congress with NFC-enabled Samsung SGH-X700 mobile phones to be used in a variety of applications including secure payment and access.
Philips, Samsung and Telefonica Móviles España demonstrate simplicity of Near Field Communication technology at 3GSM World Congress
200 attendees can enjoy easy payment and convenient access at Fira de Barcelona Convention Center
Eindhoven, The Netherlands, February 7, 2006 – 3GSM will be the setting of the latest large-scale demonstration of Near Field Communication Technology (NFC) – the easy-to-use short range wireless technology. Royal Philips Electronics (NYSE: PHG, AEX: PHI) and Telefonica Móviles España, the largest Spanish mobile operator, will demonstrate the simplicity of NFC technology by providing 200 selected attendees of the 3GSM World Congress with NFC-enabled Samsung SGH-X700 mobile phones to be used in a variety of applications throughout the conference and exhibition area. With the NFC-enabled Samsung SGH-X700 mobile phones, the 200 participants can conduct various transactions throughout the Congress, including secure payment and exhibition and conference access, simply with the swipe of their mobile phones.
One of the most important new mobile communications technologies to be showcased at 3GSM, NFC is the most promising new wireless technology to hit the market in recent years. NFC is seeing significant market traction with major commercial trials currently running in France, Germany, Taiwan and the United States. The large demonstration at 3GSM by Philips, co-inventor of the NFC technology, Samsung and Telefonica Móviles España, gives the mobile industry's most influential players the chance to experience the convenience themselves.
According to Gartner research vice president Stan Bruederle: "In addition to being well suited for contactless payments using your mobile phone, NFC can be used for simply establishing secure wireless connectivity connections with your mobile phone and other devices using wireless universal serial bus (USB), Bluetooth, and other connectivity technologies."
"We see NFC as an important new option that consumers will be requesting as part of their new services," stated Juan Luis Mirabet, Consumer General Manager of Telefonica Móviles España. "It extends the ways in which mobile phones can be used, and we're pleased to have the opportunity to meet existing and emerging consumer demands by providing new applications and services, as well as enabling a truly mobile lifestyle where they can connected anytime, anywhere."
"Samsung is very proud to introduce the specially designed NFC mobile phone, SGH-X700, for industry professionals at the 3GSM World Congress. As one of the board members of the NFC Forum, Samsung has invested a lot for R&D and looked carefully for business opportunities with NFC" stated YH Han, Senior Vice President of Sales & Marketing at Samsung Electronics.
Samsung's SGH-X700 is a premium bar-type handset, which combines elegant design with comprehensive features. The popular X700 models are specially equipped with NFC technology to demonstrate the simplicity and ease-of-use of NFC at 3GSM. The applications that the 200 attendees can enjoy with their NFC-enabled Samsung phones include:
Secure contactless payment: Paying for items has never been easier. Each phone comes equipped with e-money that can be spent at a specially equipped kiosk at the Philips booth. By using the touch-screen kiosk, users can easily select and pay for their choice of CDs, DVDs and books using the NFC-enabled phone. After the transaction, the money is deducted from the purse and a message pops up on the phone screen indicating the balance account.
Exhibition and conference access: When users wish to access the conference or exhibit area, they simply pass their NFC-enabled phone in front of the entrance booth just by holding their NFC phone close to the PDAs being used at all entrances for access. The PDA reads the phone, confirms the validity of the badge, and in an instant, the transaction occurs and the authorized attendee can enter the conference.
Other applications and services that are part of the demonstration include on-site registration, information exchange with the lead retrieval system, an electronic business card with the user's personal registration dated stored on the phone and the opportunity to win prizes.
About NFC
Jointly developed by Philips and Sony, NFC is a combination of contactless identification and interconnection technologies that enables wireless short-range communication between mobile devices, consumer electronics, PCs and smart objects. NFC offers a simple, touch-based solution that allows consumers to exchange information and to access content and services in an intuitive way.
Combining the functions of a contactless reader, a contactless card and peer-to-peer functionality on a single chip, NFC opens up a myriad of new opportunities to our consumer lifestyles. It is an open interface platform that allows fast and automatic set-up of wireless networks, which also works as a virtual connector for existing cellular, Bluetooth and wireless 802.11 devices.
NFC is compatible with Sony's FeliCa(TM) card and the broadly established contactless smart card infrastructure based on ISO 14443 A, which is used in Philips' MIFARE® technology.
To drive development and adoption of NFC, Philips, Sony and Nokia established the NFC Forum, a non-profit industry association which promotes implementation and standardization of NFC technology to ensure interoperability between devices and services. The NFC Forum has currently more than 70 members around the globe including MasterCard International, Matsushita Electronic Industrial Co, Ltd, (Panasonic), Microsoft, Motorola, NEC Corporation, Renesas Technology Corp., Samsung, Texas Instruments and Visa International.
About Royal Philips Electronics
Royal Philips Electronics of the Netherlands (NYSE: PHG, AEX: PHI) is one of the world's biggest electronics companies and Europe's largest, with sales of EUR 30.4 billion in 2005. With activities in the three interlocking domains of healthcare, lifestyle and technology and 159,200 employees in more than 60 countries, it has market leadership positions in medical diagnostic imaging and patient monitoring, color television sets, electric shavers, lighting and silicon system solutions. News from Philips is located at http://www.semiconductors.philips.com.
About Samsung Electronics
Samsung Electronics Co., Ltd. is a global leader in semiconductor, telecommunication, digital media and digital convergence technologies with 2004 parent company sales of US$55.2 billion and net income of US$10.3 billion. Employing approximately 113,600 people in over 90 offices in 48 countries, the company consists of five main business units: Digital Appliance Business, Digital Media Business, LCD Business, Semiconductor Business and Telecommunication Network Business. Recognized as one of the fastest growing global brands, Samsung Electronics is a leading producer of digital TVs, memory chips, mobile phones, and TFT-LCDs. For more information, please visit www.samsung.com.
About Telefónica Móviles España
Telefónica Móviles España (www.empresa.movistar.es), the operator of Telefónica Móviles Group in the Spanish market, has 19.8 million customers –at end of September 2005- and a full range of services and applications portfolio that uses the latest mobile technologies, including UMTS. Telefónica Móviles is one of the world's premier mobile carriers and the leader in the Spanish and Portugues-speaking markets, with operations 15 countries and more than 89 million customers worldwide(at the end of September 2005). Telefónica Móviles shares are quoted on the Spanish markets and New York Stock exchange, under the ticker symbol TEM. Movistar is the commercial brand for all the companies of the Telefónica Móviles Group around the world, except in Morocco and Brazil.
Near Field Communications News and Insight
Explore more developments dealing with the implementation of Near Field Communications, a short-range wireless technology that promises to revolutionize contactless identification, payment, access, and more.
Click to visit NFCNews
.