3M installs automatic book return system in 3 libraries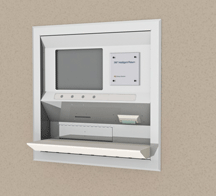 3M Library Systems has installed its Intelligent Return and Sorter System SL in three new locations: the Park Grove Branch Library in Cottage Grove, MN, the Oglethorpe Mall Branch Library in Savannah, GA, and the Gail Borden Public Library in Elgin, IL.
The Intelligent Return and Sorter System SL allows library patrons to return their borrowed materials at an interactive kiosk without the intervention of an employee. A borrowed book is fed through a slot where a reader scans the RFID tag or bar code, makes a record of the return, and automatically sorts it into the appropriate bin for re-shelving.
The system can be interior wall or exterior wall mounted, walk-up or drive-up, and is compatible with both EM (electromagnetic) and RFID security systems.
A fourth installation of the system is in the works for the St. Joseph Public Library in South Bend, IN.