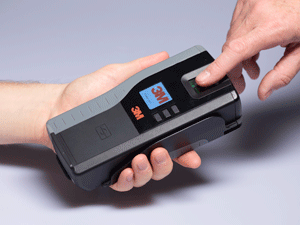 3M Security Systems introduced the MD6000 Mobile ID Reader, a lightweight handheld reader device with five data capture modes giving users the capability to validate multiple types of IDs while in the field.
With applications for border management, law enforcement and transportation, the 3M MD6000 Mobile ID Reader offers versatility for mobile identification of individuals.
The five-in-one device is equipped with readers for optical character recognition (OCR), three-track magnetic stripes, contactless RF chips and contact chips, as well as an optical, single fingerprint capture device. After data is captured in any one of these five modes, the device encrypts and relays it via wireless Bluetooth technology to a user's existing portable processing platform, such as a rugged laptop, tablet PC or smartphone.
The 3M MD6000 Mobile ID Reader gives users the ability to make real-time, field-based operational decisions, reducing the need for station-based resources. In a law enforcement application, for example, officers will have the ability to validate multiple forms of ID at a scene. In a border-control scenario, the reader will allow agents to check travel documents at entry or exit points.