A rugged tablet with two cameras and an RFID reader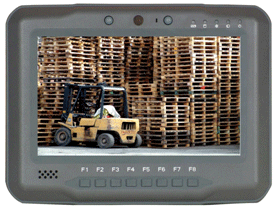 Arbor Technology announced the unveiling of a new tablet PC that offers dual cameras, an RFID reader, and the ability to survive a four-foot plummet to the earth's surface.
Arbor's Gladius G0710S comes with a 1.1 GHz Intel Atom processor and 4 GB of flash storage, and an RFID reader that meets ISO 15693/14443A/14443B compliance.
The 1024 x 600 touch screen display is sunlight readable and information can be transmitted using the tablets integrated gigabit Ethernet or 802.11b/g/n wireless networking connections. The G0710S also adds a SIM slot and is available with a GSM data modem.
Sealed against liquids and dust to the IP54 standard, the tablet is capable of withstanding shocks of up to 10G and tablet's 2600 mAh battery pack will support the device for mobile operations up to four hours.
An external keyboard can be connected via USB or Bluetooth and the front-facing 1.3 megapixel camera can be used for videoconferencing, while the outward-facing 2.0 megapixel camera can be used for capturing images.