A trillion tagged packages? The promise – and reality – of the postal market for RFID
By David C. Wyld, Southeastern Louisiana University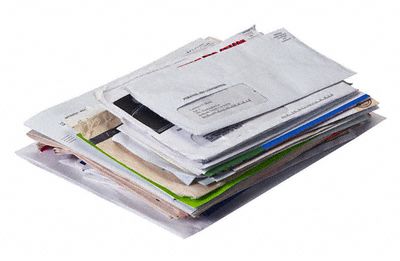 The global postal and package shipping market has long been projected to be one of the largest potential RFID applications. However, while leading shippers UPS and FexEx were early proponents of RFID, they have backed off on significant RFID projects, due to their sizable investments in bar code based auto-ID systems.
In truth, these legacy systems have–thus far–proven good enough for now, meeting both customers' expectations to be able to track and trace shipments on an almost real-time basis and the firms' internal needs for business intelligence and visibility.
Forecasts demonstrate the potential market size for the global postal market for RFID applications. The analyst firm IDTechEx recently issued a report entitled "RFID for the Postal and Courier Service: 2008-2018." IDTechEx estimates that the global market for RFID in the postal sector will reach $2.5 billion a decade from now. The authors of the report, Peter Harrop and Glyn Holland, predict that with more than one trillion postal items shipped annually–with volumes constantly growing and the push for item-level tagging increasing as well – the postal market could become, in time, second in size to only retail RFID in retail and supply chain applications.
Today, we are seeing real movement on RFID in the postal marketplace. On a global scale, the longest standing RFID application comes from the Brussels-based International Post Corporation (IPC). The IPC is a cooperative association of 24 national postal operators. Located across the Americas, Europe and the Asia/Pacific region, IPC member postal systems deliver 80% of the world's mail volume.
Using its proprietary RFID-based Automatic Mail Quality Measurement (AMQM) system, developed by Lyngsoe Systems, the IPC has employed RFID for more than a decade to test the delivery performance of national postal systems by sending thousands of secret test packages and letters each year. In fact, the IPC presently sends more than half a million test letters and parcels carrying reusable active RFID tags between 43 countries (including non-IPC member nations), in order both to collect quality of service performance data and to determine proper fee payments for express shipments.
These test letters are anonymous in appearance, and they are mixed in with the national systems' normal mail flows to test transit times and to pinpoint potential bottlenecks that can cause delays in delivery. The IPC currently has more than 8,000 reader points at more than 1,000 mail facilities in the 43 countries under performance surveillance, with two dozen more countries planned to be added to the system in the next few years.
Many member postal systems also use the AMQM system to test domestic mail delivery performance on a regular basis. The IPC reports that the AMQM data has proven to be instrumental to improving delivery performance in international and domestic mail shipments in member countries.
In individual countries, we are also seeing national postal agencies make significant investments in RFID technology. These efforts include:
Spain: The Spanish Post Office, Correos, ships 25 million postal articles every day. Presently, the Spanish postal agency is implementing one of the largest RFID projects undertaken to date in Europe. Dubbed Q-RFID, Correos' RFID project involved a substantial commitment to improving delivery quality and on-time performance, as it involved RFID-enabling the agency's 16 mail sortation hubs (which it refers to as APCs, or Automated Processing Centers) and four bulk mail facilities, located across Spain.

Each day, the agency tracks up to five thousand pieces of mail that postal workers have attached passive RFID labels upon. Similar to the AMQM system, Correos can then track mail in transit, as well as employing semi-passive tags to gain visibility on mail bins used within the centers. With RFID tracking, Correos has newfound capabilities to track performance measures in real-time and to spot and resolve bottlenecks in the mail sortation and delivery process.

Correos is now looking to expand its bin tracking capabilities and to perhaps move to trials of RFID for tracking all express mail shipments. Further, the success of the Correos implementation has also caused the Spanish government to change its available UHF spectrum, which will help promote wider utilization of RFID in both the Spanish public and private sectors.

Switzerland: Swiss Post, the privatized company providing postal services in Switzerland, delivers more than 110 million parcels annually. Swiss Post recently announced that it was well underway in implementing its third RFID-based system.

Following successful efforts at using RFID for closed-loop tracking of vehicles and small package trays at the company's three parcel centers (located at Härkingen, Baar and Burgdorf), Swiss Post is now looking to use up to 50,000 tags to improve shipping and tracking capabilities between these centers and 44 transportation hubs throughout Switzerland.

Working with Swisscom, the postal agency is looking to tag the wheeled container cages that are used for transporting packages after they have been sorted for delivery to their destination, both at the sortation centers and transport hubs. By tracking the movement of the trolleys bound for specific locations as they move through the postal system and making use of a proprietary software system developed for this application, this system, which is due to be completely implemented by the end of 2008, gives Swiss Post management unprecedented visibility into their parcel distribution system. And to better serve its customers in the future, it is presently exploring ways to add RFID to other facets of its business, including using RFID to track express and high-value parcels. It has established the goal of tracking all of the agency's reusable assets within the next five years.

Korea: Researchers at the Korean Electronics and Telecommunications Research Institute (ETRI) recently concluded a demonstration project of a complete end-to-end, RFID-based postal delivery system. The Korean Ministry of Information and Technology is presently studying the feasibility of replacing its labor intensive bar-code based mail systems with an RFID-based tracking system, which promises new levels of visibility and control to Korean postal officials due to the real-time information that an RFID-based system, operating from the point of origin to the point of delivery, could potentially provide.

China: China Post, which ships 10 billion items annually, is still in the evaluation stage for RFID. However, the postal agency has conducted a large scale RFID trial across 20 post offices and mail sorting facilities in Shanghai. RFID tags were used to track both express mail shipments and postal bags. China Post found that RFID tracking not only prevented misdeliveries, but allowed for the handling of a third more mail volume with the same level of staffing at centers where RFID was employed.

Saudi Arabia: In the Middle East, perhaps the most transformative postal RFID project is being undertaken by the Saudi Post. In Saudi Arabia, this public postal agency–with an annual mail volume approaching one billion items–is making the shift to home delivery, rather than delivering only to post offices and having customers collect their mail from these centers.

As part of what is known as the Wasal project, Saudi Post is installing RFID-equipped home mail boxes across the kingdom. To date, one million boxes have been installed, with another five million soon to come. With it's new home delivery service, the Saudi Post letter carrier uses a hand-held scanner to ensure that he is at the correct address. And, for registered and express mail, the Saudi Post RFID system is prompted to send a delivery confirmation email once the item is safely in the correct letter box.

Usamah M.S. Altef, the Deputy Chairman of Saudi Post, recently commented on the success of the Wasel project: "We can already say that the initial response of our customers and staff is very positive. The use of RFID labels has made the introduction of this new delivery system far easier, and greatly reduced the margin of error."
On a final note, in the United States, the U.S. Postal Service (USPS) appears to still be on the sidelines as far as RFID is concerned, other than participating in the IPC program. As with its primary private sector competitors–UPS and FedEx–the USPS appears content that its bar code and optical scanning-based systems are good enough–for now. However, as can be seen by the foregoing discussion, the American postal system is slipping behind a number of foreign counterparts.
Analysis
Straining to cope with rising fuel and labor costs, as well as an uncertain future in an era of marked competition not just from private shipping competitors but from alternative, electronic forms of communication–which by and large are free–national postal systems are certainly at a crossroads. Whether they are quasi-public or truly government funded and administered entities, national postal systems will be challenged to come-up with business cases not only for new investments, but in many cases, their continued existence in a changing world of communications. However, RFID presents a unique opportunity for postal systems.
As Martyn Mallick, who is the Director of RFID Technologies for Sybase, recently commented; "The postal industry provides an excellent example of how RFID technology can increase process efficiencies resulting in improved delivery times and streamlining of operating procedures." And for national postal systems where bar coding has not been the norm, investments in RFID-based tracking systems can allow national postal systems to more or less skip an entire generation of technology (as has been done by many health care applications where bar code usage was not prevalent).
While it is doubtful that we will see widespread item-level tracking through the introduction of RFID-equipped stamps (as has been proposed in several countries) for routine, everyday mail, it is likely that item-level tracking will indeed evolve over the next decade for express and high-value parcels, first on a domestic basis and eventually, for selected international market pairs.
In truth, the value-add for tracking individual packages with RFID for individual customers may not make for a cost-effective RFID application today, especially if one is considering using active tags. However, a sampling strategy, building on that used for years now by the national posts that are part of the IPC, can be an invaluable diagnostic and monitoring tool for postal management.
In doing so, postal RFID will be poised for significant growth over the next decade. Certainly however, as we have seen in the Swiss and Spanish examples, exciting results can be achieved by applying RFID at the aggregate level through RFID-based tracking the carts, totes, containers, trolleys, cages and bins that are at the heart of mail delivery systems around the world. Both case studies provide evidence of the significant paybacks offered by RFID-based systems not just in better tracking of parcel items, but also in the ability to better manage and locate assets, as well as improving security, maintenance and utilization for those assets.
Thus, we are well on the way to seeing RFID "go postal." And, if tag/label costs continue to fall, passive tagging of routine postal items may indeed make possible the trillion tag scenarios outlined by some of the more optimistic market analysts. Postal services are thus an area ripe for RFID development and deployment.
And, as 2009 approaches and the UPU (Universal Postal Union) will be pilot testing an RFID-based global quality of service measurement system that is used to determine remuneration rates international mail, postal RFID applications will branch beyond the industrialized world to become truly global in scale and effect.
---
Wyld is a professor at Southeastern Louisiana University and director of the strategic e-commerce/e-Government initiative in the department of management. He can be reached dwyld@selu.edu.