Acquistion by Motorola and new rugged RFID reader model suggest big things ahead for Symbol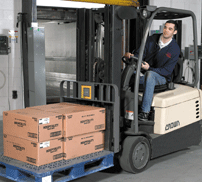 By Marisa Torrieri, Contributing Editor
On the same day the "enterprise mobility" company announced its looming acquisition by handset manufacturer Motorola, manufacturer Symbol Technologies rolled out a new RFID reader for harsh, rugged environments.
The RD5000, a vast improvement over older readers, is a compact, mobile Gen 2 RFID reader that can be integrated with forklifts, pallet jacks, stretch wrappers, and other material handling equipment, and used in space-constrained environments. By extending the range of RFID beyond the dock door, the RD5000 mobile RFID reader provides customers with improved asset visibility in motion throughout the supply chain, says Symbol.
The reader is designed to be mounted onto a forklift with the Symbol VC5090 vehicle/fixed mount computer as part of an integrated forklift package. The objective: to reduce the need for drivers to spend time recording the receipt and movement of goods. List price is $8,000 per reader, but rates are negotiable and based on volume.
"You can have this thing mounted and reading tags in 10 minutes," said Justin Hotard, director of business development at Symbol Technologies, during a New York press event that included a demo that included readers in 'oversized shakers' to demonstrate their durability. And they're not just limited to forklifts, he adds. "We're seeing other applications for this, like skate wheels, load-in palates."
Earlier models of readers worked well in capturing data and transferring data to back-end warehouse management systems. But they were cumbersome, and came with lots of wires. "People would have these elaborate custom configurations," recalls Mr. Hotard. "They would say, 'this is great, but I can't deploy this at 50 facilities.'"
"The product definitely has some opportunities – (Symbol) really needed a forklift offering to compete with Intermec," says Mike Liard, industry analyst for ABI Research. "Think about the rough environments (in which) we're using RFID. … there's still a lot of work to be done in this space, and as RFID expands there will be a need for more rugged devices."

What's Next for Symbol, With Parent Motorola
So what kinds of wares will the handset/portable radio maker and the mobile computing biz whiz cook up in their shared kitchens?
There's lots of speculation and excitement but folks at Symbol and Motorola are keeping their mouths shut … at least until the deal closes.
The acquisition has been viewed mainly favorably by industry analysts covering both companies' markets; most also agree that the acquisition means Motorola sees a big future in enterprise markets as well as RFID technology.
"I can't say I was shocked by the acquisition," says Mr. Liard. "It makes a lot of sense. It's a lot of complimentary technologies. Both companies embrace the mantra of enterprise mobility. Motorola's been looking at RFID for a number of years. Motorola's been investigating active RFID solutions, and symbol looking at passive. In the next three months, we'll be hearing more about how they'll operate."