ACS launches new biometric solution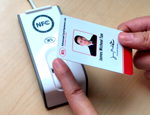 Advanced Card Systems, a developer of PC-linked smart card readers, has launched its new card reader with fingerprint sensors.
The reader, called the AET62 Near Field Communication Reader, is a multi-factor authentication device that requires the input of a user's PIN or password, contactless smart card and fingerprint for proper authentication.
Additionally, the device employs match-on-device technology wherein the user's biometric profile is stored on the individual device instead of a remote server or database in an effort to keep fraudsters from being able to access biometric data.