ACS launches upgraded LCD NFC reader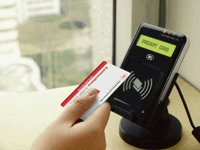 Hong-Kong's Advanced Card Systems (ACS) has announced the latest addition to its line of LCD-equipped NFC readers for payments and loyalty, the ACR1222L.
Successor to the ACR122L, the new reader is based on 13.56 MHz RFID technology and ISO 18092 NFC standard, and supports ISO 14443 Type A and B Mifare cards in addition to FeliCa and all 4 types of NFC tags, according to ACS.
Sporting a USB interface rather than a serial interface, the ACR1222L also features a faster response to cards and clearer operation indicators via its 2-line graphic LCD, 4 LED's and a buzzer.
Other features include built-in SAM slots for enhanced security, as well as USB firmware upgradability for easy migration of applications to support new cards. The reader also has built-in anti-collision mechanism and direct card type polling commands to limit access to a certain card when multiple contactless cards are presented to the device.
According to ACS, the ACR1222L can work with most NFC platforms and systems.