Actividenty's FIPS 201 certified products gain major industry partners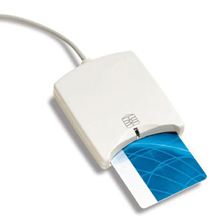 ActivIdentity's FIPS-201, NIST certified smart card management system and desktop authentication software, are supported by a cadre of industry leading suppliers. Already integrated with ActivIdentity CMS 4.0 are solutions from Novell, Sun, IBM, Lenel, Honeywell, Imageware, Daon, Probaris, L-1, Entrust,and Cybertrust.
Security Industry Rallies With Digital Identity Assurance Leader ActivIdentity as Presidential Homeland Security Deadline Nears
ActivIdentity Homeland Security Presidential Directive (HSPD-12)/FIPS 201 Certified Smart Card Solution Now Commercially Available to Improve Security, Enhance Commerce and Protect Privacy
FREMONT, Calif., Sept. 12 /PRNewswire-FirstCall/ – ActivIdentity Corporation (NASDAQ:ACTI) , a global leader in digital identification for government and enterprise, today announced the support of the security industry's leading technology companies for ActivIdentity's next-generation ultra secure, open smart card management and client platforms merging both physical and logical security access in a single Federal Information Processing Standards (FIPS 201) compliant system.
The National Institute of Standards and Initiatives (NIST) responded to HSPD-12 by issuing FIPS 201, which identified smart cards as the device to be used to provide the security and rapid electronic authentication to verify the identity of individuals accessing government resources globally. The rapidly approaching October 27, 2006 deadline for HSPD-12 mandates government agencies to deploy FIPS 201-certified Personal Identity Verification (PIV) cards, which incorporate identity assurance and strong authentication practices utilizing PKI and biometric fingerprint credentials on a single cryptographic smart card for increased security of both facility and network access.
ActivIdentity has worked with many government agencies and leaders in the industry to create an end-to-end FIPS 201 PIV solution set that incorporates ActivIdentity's industry leading smart card and credential management systems (ActivIdentity CMS 4.0) and smart card client software (ActivIdentity ActivClient 6.0) products. This industry integration reduces the cost, time and risk of deployment for customers.
"Government working with industry leaders has created a digital identification security standard that addresses the employee needs of both government and businesses internationally as the two sectors place greater demand on secure electronic interaction and information sharing," said Jason Hart, CEO of ActivIdentity. "Providing employees with a trusted digital identity enables them to securely access information and facilities, communicate, as well as digitally sign documents and transactions, while protecting their data."
"The FIPS 201 PIV standards will transform an industry that has been largely proprietary, enabling the growth and development of a broad range of global applications that utilize PIV cards and credentials. ActivIdentity and our partners are continuing to push the envelope by providing open, advanced, secure digital identity assurance solutions that address the convergence of physical and logical systems enabled by these standards," added Hart.
Industry leaders supporting ActivIdentity to deliver FIPS 201 PIV solutions include: identity management systems companies Novell, Inc. and Sun Microsystems, Inc.; systems integrators Alternative Technology, General Dynamics Information Technology (GDIT), Maximus, Inc. and Unisys Corporation; certificate authority vendor Entrust, Inc.; identity verification systems vendors Daon, ImageWare Systems, Inc. and Probaris Technologies; physical security systems company Lenel Systems International, Inc.; and smart card manufacturers Gemalto and Oberthur Card Systems Corporation.
ActivIdentity, with its partners, has been selected as the provider of smart card-based identity solutions by more government agencies than any other provider, including one of the world's largest smart card deployments for the U.S. Department of Defense (DOD) and the recently announced (Apptis: August 30, 2006) Transportation Security Administration implementation with the new ActivIdentity PIV-compliant solution. ActivIdentity has also deployed smart card systems to many other innovative government agencies that lead the development of smart card usage and standards including the Department of Veterans Affairs, Department of Interior and FBI.
ActivIdentity's Open Platform
ActivIdentity provides two essential components of the complete FIPS 201 PIV solution; its industry leading smart card management system, ActivIdentity CMS 4.0, and ActivIdentity ActivClient 6.0 desktop authentication software, the first to be FIPS-201 certified by NIST. This complete smart card solution provides issuance, life cycle management of PIV cards, plus usage applications and post-issuance capability. Leveraging the ActivIdentity platform with its extensive application programming interfaces (APIs), system integrators and solutions partners are working with ActivIdentity to provide a complete PIV solution, including:
– Identity management and provisioning
– Identity verification and proofing
– Physical security integration
– Government certified shared service provider PKI
– Certificate validation
– Biometrics
ActivIdentity CMS 4.0 goes beyond the requirements of the HSPD-12 mandate, and the FIPS 201 standard, by providing end-to-end security for the issuance and lifecycle management for PIV cards, plus post issuance capability to update data, credentials and applications for cards in the field. ActivIdentity CMS 4.0 now enables customers to comply with the HSPD-12 mandate by issuing FIPS 201 certified smart cards, either face to face, locally within government agencies, or through central service bureau card production facilities. ActivIdentity CMS 4.0 integrates seamlessly with other components of a PIV solution such as identity management systems, physical access control systems, enrollment and identity proofing systems, and central production facilities. Many leading software vendors have already integrated their solutions with ActivIdentity CMS 4.0, including: Novell, Inc., Sun, Inc., IBM Corporation, Lenel Systems International, Inc., Honeywell, Imageware Systems, Inc., Daon, Probaris Technologies and L-1 Identity Solutions, Inc. (formerly ViiSage), among others including PKI providers, Entrust, Inc. and Cybertrust.
ActivClient 6.0 enables government employees and contractors to use PIV Cards for many day-to-day applications such as PKI login to Windows, Solaris and Linux workstations; authentication for Web, wireless networks, remote access, thin clients, secure e-mail; as well as to digitally sign documents and transactions. When used with ActivIdentity SecureLogin eSSO, the PIV card secures single sign-on access to applications.
ActivClient 6.0 is the only client software with backward and forward compatibility for multiple standards and support for smart cards from all card vendors approved by DOD, and can be securely upgraded remotely to support additional standards or future versions of PIV.
"Our open support for multiple standards including CAC, GSCIS and PIV is a key competitive advantage that ActivIdentity offers our customers," Jason Hart said. "This flexibility allows them to preserve their existing investments and enables a smooth migration to new smart card standards as they evolve. One example of the advantage of ActivIdentity's open platform is the upgrade path provided to the U.S. Department of Defense utilizing ActivIdentity CMS and ActivClient to transition DOD's 3.5 million smart card users to meet FIPS 201 requirements without having to reissue their existing cards."

About ActivIdentity
ActivIdentity (formerly ActivCard) is the trusted provider of digital identity assurance solutions for the enterprise, government, healthcare, and financial services markets worldwide. The company provides the only fully- integrated platform for the secure issuance, management and use of single secure digital identities.
The ActivIdentity platform allows users to access information communicate and conduct electronic transactions anywhere, anytime, regardless of differing security requirements and authentication challenges. Solutions include secure remote access, single sign-on, large scale enterprise access card systems, and multi-channel identification and verification.
More than 15 million users and 4,000 customers worldwide rely on solutions from ActivIdentity. Headquartered in Fremont, Calif., the company has development centers in the United States, Australia, France, and sales and service centers in more than ten countries. For more information, visit www.actividentity.com.

Compare FIPS 201 Products
Research and evaluate FIPS 201 Approved Products and get the latest info on compliant credentialing systems at FIPS201.com.
Click to visit FIPS201.com
.