Advanced Card Systems introduces secure PKI smart card for strong authentication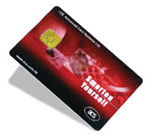 Hong Kong smart card developer Advanced Card Systems has launched a cryptographic card supporting numerous ISO standards and specifically designed for public key-based applications.
ACOS5 is an advanced cryptographic smart card that fully complies with ISO 7816-1/2/3/4/8/9 and is specially designed for public-key based applications.
It is specially designed for enhancing security and performance for RSA public-key cryptographic operations that are essential in smart card PKI, digital signature and high level security requirements. ACOS5 provides up to 32KB EEPROM of secure data storage. Typical applications include payment system, e-banking, e-commerce, stock trading, network security, corporate identity, Microsoft windows logon, PKI application, and cryptographic middleware layers CSP and PKCS#11.
ACOS5 Features:
32K bytes of EEPROM for application data
Supports T=0 direct protocol
High baud rate switchable from 9,600 to 115,200 bps
Configurable ATR
Supports ISO 7816 Part 4 file structures: Transparent, Linear Fixed, Linear Variable, and Cyclic
DES / 3DES / AES-128 bits / RSA (up to 2,048 bits) capability
Secure messaging
Mutual Authentication with Session Key generation
Multilevel secured access hierarchy
Anti-tearing capability
For more information regarding this product, go to www.acs.com.hk/aboutACS_Spotlight.asp?PressReleaseid=70.
About ACS
ACS is a smart card product developer founded in 1995. Its mission is to become a leading technology provider to enable smart card based solutions in the world market. ACS develops and supplies a range of high quality smart card reading and writing devices, facilitating a wider adoption of smart card applications in different industries.
ACS is based in Hong Kong and it is the world's first company to introduce the PC/SC compliant USB smart card reader. It is also the first company to offer a reader based on a single-ASIC (Application Specific Integrated Circuit) solution with EMV (Europay, Mastercard and Visa) Level I certification. ACS is ranked by Frost and Sullivan as the world 4th biggest supplier of PC-linked smart card readers and among the Asian suppliers to the world market, it is Number 1.