Advances make EMV smart card payments from Visa and MasterCard truly interoperable in '05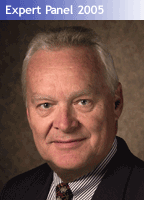 A panel of ID industry experts provided predictions for 2005. One of these glimpses into the future will appear here each day during December.

by Denny Jensen, senior vice president, Chip Implementation and Readiness, Visa International
A key feature of migration to EMV chip cards over the next 12 months will be the adoption of the Common Core Definitions (CCD) and the Common Payment Application (CPA).
Common Core Definitions are a set of data definitions and processes standardizing the data interface between EMV cards and issuers' host systems. They were agreed by EMVCo to solve the challenge posed by the emergence of two different chip payment specifications – Visa's VIS specification and MasterCard's M/Chip.
Visa and MasterCard have agreed to recognize EMV chip cards that conform to the Common Core Definitions for use on their respective branded cards.
While developing the CCD, EMVCo recognized other areas where a common approach would benefit the industry. As a result, EMVCo launched the Common Payment Application (CPA) initiative.
Currently, dual issuers must buy a set of cards for each card brand they issue. CPA advances the CCD by standardizing the format of payment applications on a chip. CPA specifies common data definitions, card risk management options, common tags, card behaviors and common personalization. This means that issuers need only buy one set of chip cards for all their card brands and can easily personalize each one based on a common personalization technique.
Another advantage of CPA is that it will allow issuers to segment their card base by features and service, not by the constraints imposed by conflicting application specifications developed by multiple card brands. Issuers that implement CPA also benefit from potential cost savings since vendors can mass produce CPA chip cards instead of producing one for each proprietary application specification in use.
CPA will "complete the circle" of chip interoperability, making it easier and more cost-effective for issuers to launch a globally accepted smart card program. As CPA is adopted, all elements of the transaction chain— from terminals, acquirer and issuer host systems to the cards themselves—will come to have a set of common features. Compliance with CPA is completely voluntary for issuers and Visa will continue to support VIS implementations for those issuers that choose to continue issuing VIS cards.
Visa has already embraced CPA as an important breakthrough for chip migration, but going forward, everybody will benefit from CPA: chip card vendors can develop one set of chip cards that can be used for any CPA-compliant card brand; issuers can more easily and cost-effectively personalize globally interoperable chip cards; and cardholders benefit from a universally accepted payment instrument with greater functionality and security than magnetic stripe, knowing that their Visa card will be accepted anytime, anyplace, anywhere. Also, because CPA is owned, managed and maintained by EMVCo, modifications to both specifications will be open and available for the benefit of the payment industry at large.
---
Visit Visa International on the web at international.visa.com.