Advantidge offers new ID cards with plastic alternative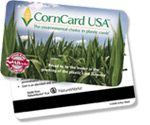 Advantidge, Inc., a supplier of card printers, systems and supplies, announced the availability of the Corn Card, a new eco-friendly card solution with ecological advantages over traditional petroleum-based Polyvinyl Chloride (PVC) cards.
Millions of PVC cards are used every day in a plethora of applications and industries – cutting across nearly every social and business sector imaginable. These include photo IDs for schools and companies, membership cards, hotel room key-cards and gift and loyalty cards. But since their production is dependent on oil, a non-renewable resource, PVC cards adversely affect the environment, both in their manufacture and eventual disposal.
In contrast, Corn Cards are made from corn, a renewable resource. Key features include:
Same familiar look and feel of standard white PVC cards.
Identical quality and durability of printed cards.
100% biodegradable and no toxins released when properly disposed.
Made from special corn type – not derived from corn used in human food supply.
Advantidge seems to feel that PVC's use is rapidly declining, especially since more and more manufacturers and retailers recognize its harmful environmental effects.
"Corn Cards are a major step forward, easily allowing us to proactively assist our customers in addressing their 'going green' initiatives," said Lawrence Grafstein, CEO at Advantidge.