AeroScout checks in at John Radcliffe Hospital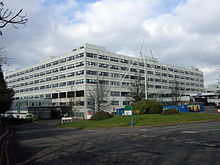 The John Radcliffe Hospital has implemented AeroScout's Asset Tracking & Management and Temperature Monitoring solutions to track and manage critical equipment and monitor refrigeration units that contain vital, temperature sensitive items.
The AeroScout Wi-Fi RTLS solution improves hospital operations, productivity and patient care by quickly locating critical medical equipment. The AeroScout solution further enables staff to spend less time looking for equipment, such as bariatric beds and infusion pumps, and allows them to spend more time caring for patients. In the event of a safety recall, it also allows the hospital to quickly locate and recover the equipment in question.
The John Radcliffe Hospital is using AeroScout's temperature monitoring solution to automate the observation of refrigerators that contain medications, vaccines, blood and other critical items. The hospital is also using the temperature monitoring to check the temperature of certain medical equipment that generates heat, such as digital x-ray machines. If a temperature reading deviates from the range specified as safe, alerts are sent to appropriate staff members.
Part of the Oxford Radcliffe Hospitals NHS Trust in the UK, John Radcliffe Hospital provides a wide range of clinical services, training and research for the local Oxfordshire population.
And following its success, the Trust has plans to expand the AeroScout RTLS solution beyond the John Radcliffe Hospital, to the Churchill Hospital in Oxford.