AeroScout tag endures sterilization processes for surgical equipment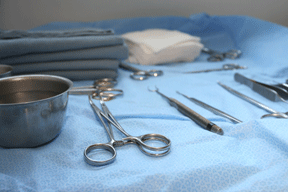 AeroScout announced a new Wi-Fi RFID tag for tracking surgical equipment through its entire life cycle, even able to withstand the rigorous sterilization processes required for such equipment.
The new AeroScout Autoclave Tag can withstand temperatures of 135° C (275° F) and pressures from vacuum up to 35 PSI experienced during cleaning and sterilization – sterilization processes including ultrasonic cleaning, high-pressure liquid sterilization and steam autoclave. The tag is also designed to deliver a battery life of two years and withstand the harsh conditions of hundreds of sterilization cycles.
The Autoclave Tag attaches to and tracks surgical instrument trays and other equipment as they progress through the numerous stages of preparation for surgical procedures and then through the perioperative process. It was developed to enable hospitals and health care providers to improve staff efficiency, automate inventory management and optimize operating room work flow.
Staff can reduce the time spent searching for the instruments or equipment required for a procedure and the real-time visibility ensures that critical items are available when needed, thereby increasing staff satisfaction, shortening operating room preparation time and increasing throughput.