Air Force tests air fueling efficiency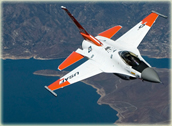 The Edwards Air Force Base in California is in the process of testing an RFID-enabled aircraft identification system that is said to make air-to-air refueling more efficient and economical.
A form of inventory control, the test involved a KC-135 fuel tanker and an F-16 Fighting Falcon equipped with RFID tags. Antennas from fuel tanker scan the F-16 to see if it recognizes it and to accurately gauge the amount of fuel transferred.
Currently, when an airplane approaches a tanker for refueling, the boom operator manually records the receiver aircraft's information. Information for the receiving plane, such as the tail number and squadron, must be visually identified or communicated by radio.
This process will allow the boom operator to focus on safely refueling the aircraft, rather than administrative tasks, and is especially useful during night operations and radio silence situations.
Air Force photo by Chad Bellay