All-in-one cards, NFC will drive contactless in 2008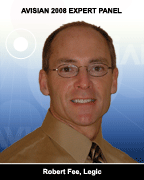 Robert M. Fee
General Manager North America
LEGIC Identsystems
If last year's dramatic growth of contactless smart cards and applications is any indication of what is to come, then we are in for another exciting year. The proliferation of the technology and associated standards extend the contactless reach well beyond physical and logical access to high growth markets such as transit, NFC, e-Payments and even the campus card. This upward trend has no ceiling as organizations across the spectrum expand use of their "credential program" to applications that directly impact operations, thereby lowering costs while increasing efficiencies.
LEGIC estimates that 50% of the more than 50,000 LEGIC installations world-wide are running more then one application on the same card right from the beginning and within two years another 20% add additional applications. With this in mind, the worldwide trend to 'all-in-one-cards' will continue due to the large savings involved as compared to the managing and administering of just one credential.
The current multi-application trend will begin to go one step further and combine two technologies into one solution called dual-interface, taking all existing and new contactless applications and putting them on a new credential (or token, tag, etc). LEGIC refers to this concept as card-in-card, a solution that helps organizations reduce costs by getting rid of the need to potentially carry two credentials or a hybrid credential.
In addition, the global rollout of ubiquitous mobile devices that communicate to other NFC (near field communication) devices will give the American Express commercial "don't leave home without it" an expanded meaning. The current hype about NFC devices will begin to bear fruit right here in the United States. Currently in Europe, LEGIC is participating in several pilots in partnership with leading smart card and mobile phone suppliers and major network operators such as Swisscom to develop access control and vending solutions for mobile devices.
Financial markets, mobile operators and merchants will continue to build consumer demand for even greater convenience and flexibility, which will, in turn offer more opportunities for developers to deliver creative solutions. Hold your phone near a poster or magazine advertisement to download music, a map, and photos; download coupons from a magazine to your phone and then hold the phone to the reader at the store to receive your discounts; scroll through which payment option you wish to apply and not only pay for the transaction but gain loyalty points too —all with just one mobile device.
Finally, you don't have to be a Fortune 100 company or the Federal Government to take advantage of contactless technology. Price points are dropping and applications abound. Both small and large organizations have become pioneering trendsetters in using these technologies to ensure a secure, and at the same time, cost effective means of giving their employees, students, or guests an ID on one single credential. Throw in an NFC device and you complete the activity cycle at the office or campus.
This is just the tip of the contactless iceberg, which is why the future for contactless smart card technology looks very bright indeed.
---
About the AVISIAN Publishing Expert Panel
At the close of each year, AVISIAN Publishing's editorial team selects a group of key leaders from various sectors of the ID technology market to serve as Expert Panelists. Each individual is asked to share their unique insight into what lies ahead. During the month of December, these panelist's predictions are published daily at the appropriate title within the AVISIAN suite of ID technology publications: SecureIDNews.com, ContactlessNews.com, CR80News.com, RFIDNews.org, FIPS201.com, NFCNews.com, ThirdFactor.com, and DigitalIDNews.com.