AllergyKids, Safe Guard Medi-Systems launch medical flash drive wristband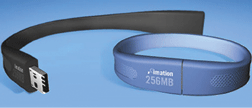 A new flash drive wristband allows medical personnel to have instant access, when plugged into a computer's USB port, to your child's medical history, including the child's allergies, medications, blood type, doctor's name, emergency information and more. The wristband can also be attached to a key chain or your child's lunch box or backpack.
BOULDER, Colo.– AllergyKids and Safe Guard Medi-Systems Corporation (SGMS) announced a new product: the AllergyKids USB Medical Flash Drive Wristband. Plug the AllergyKids Flash Drive Wristband into the USB port on any computer worldwide to instantly view complete medical history, allergies, medications and emergency information.
The AllergyKids Medical Flash Drive Wristband is now available at www.allergykids.com.
Unlike traditional wristbands, AllergyKids' revolutionary new medical flash drive wristbands by SGMS allow medical personnel, first responders or any adult, to instantly view your child's complete medical history, including all allergies, medications, picture, blood type, doctor's name, emergency information, and much more, to assist with appropriate and timely medical care. Simply plug this device into the USB port on any computer worldwide to access your child's records.
The AllergyKids Medical Flash Drive Wristband can be worn around the wrist, or it can be attached to your child's lunch, backpack or keychain. It is available in black with the AllergyKids fluorescent green octagon symbol and trademark on it and measures 6.5″ around (youth size).
You can compile your child's medical records on the 256 MB drive with the easy-to-use electronic forms included in the software. The Wristband also comes pre-loaded with vital electronic medical release forms and a step-by-step tutorial. You may update it whenever necessary or you can ask your doctor's office to do it. Have your child carry this convenient device with him wherever he goes so that you know that he will receive proper care in your absence in the event of an emergency.
According to CNN.com, "The President has set a goal for all Americans to have digital health records by 2014 and has funded the U.S. Office of the National Coordinator for Health Information Technology."
The AllergyKids Medical Flash Drive Wristband comes with a Wallet ID Card to alert others to look for your medical flash drive and is available at www.allergykids.com and 800-671-1525.
About Safe Guard Medi-Systems Corporation
Safe Guard Medi-Systems Corporation is a medical flash drive company headquartered in Miami dedicated to: saving lives, reducing health care costs and improving the efficiency and quality of medical care; to making an affordable, comprehensive, portable electronic medical record available to every American; and to providing medical personnel with instant access to life-saving information to ensure appropriate and timely patient care. Medical flash drives save lives. Together, we are making a difference. For more information on our line of medical flash drives and flash drive wristbands, please visit www.sgmscorp.com.
About AllergyKids
Based in Boulder, Colorado, AllergyKids was founded in 2006 to help protect children with life threatening food allergies by Robyn O'Brien, a mother of four whose youngest child suffers from food allergies. The AllergyKids product assortment, featuring the universally recognizable AllergyKids symbol, will help identify and protect children with food allergies. A portion of all proceeds from AllergyKids will go into the AllergyKids Foundation to fund medical research in the hopes of finding a cure for food allergies. For more information, please visit www.allergykids.com.