Altair Eyewear tracks its frames with RFID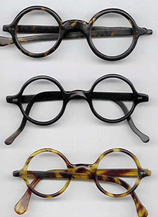 Altair Eyewear, a provider of frames for over 10,000 optician offices around the country, has selected MobileFrame to implement an RFID inventory management system to track their frames from the distribution center to the doctor's office.
Altair has already employed MobileFrame's RFID software in their distribution centers to pick and ship orders. Pleased with the system's performance, Altair then decided to expand it to track all of its frames on consignment at optician offices around the world.
MobileFrame partnered with MSA Systems Inc. to deliver the hardware–the hands-free Motorola RS309 Wearable Ringer/Finger Scanner–software, training, project management and support services necessary to install and enable the management of the RFID-enabled inventory management system.
Before RFID systems like MobilFrame's came along, opticians selling frames had to manually complete Consignment Checklist forms to determine which frames they had in stock, note which are missing, and to place orders for new frames. By replacing the grunt work with automated RFID cataloging, Altair now offers doctors frames without the baggage of added inventory work.