Amsterdam's PICNIC technology-art expo features RFID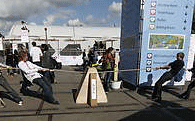 This year's PICNIC technology and art conference in Amsterdam featured a number of "Social RFID Games" designed to demonstrate new, fun applications of the technology as well as promote social interactions among the thousands of people attending the conference.
Attendees were given their very own RFID "ik tag," which granted them access to the games as well as linked them to their social network profile. Most of the RFID games required two people to play, so each time two attendees teamed up, their ik tags automatically linked them together in the conference's social network.
Highlights of PICNIC included "ik-a-sketch," a massive Etch-a-Sketch that uses RFID technology to draw pictures. The ik-sketch is an exercise in both teamwork and patience: it requires two particularly coordinated people wearing ik tags to operate, with one controlling the vertical axis and the other controlling the horizontal.
Another game. "ikTreck," uses the social networking data compiled by the ik tags to put a modern twist on tug-of-war. In ikTreck, the rope is wrapped around a motorized axle, and the team with the larger social network gets the benefit of the motor turning in their favor.
Additionally, photo booths were set up all around the PICNIC venue that took attendees' pictures when they waved their ik tag in front of the sensor, and automatically uploaded them to their profile.
The RFID projects were developed by Mediamatic in their Mediamatic RFID Hacker camp.
Read more here