Android 4.0 goes live on Samsung Galaxy S II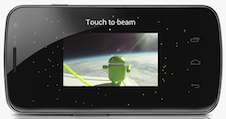 Samsung has announced the availability of the first Android 4.0 "Ice Cream Sandwich" software upgrade for the NFC-enabled Galaxy S II handset.
Starting today, Galaxy S II owners in Poland, Hungary, Sweden and Korea can upgrade the latest Android platform, which includes the new Android Beam application for NFC-enabled peer-to-peer content sharing.
According to Samsung, the update will gradually be rolled out to other markets worldwide over the coming months. Android 4.0 software upgrades for for Galaxy Note, Galaxy SII LTE, Galaxy R, Galaxy Tab 7.0 Plus, 7.7, 8.9 and 10.1 will soon follow as well.