Annual cattle showcase demonstrates benefits of RFID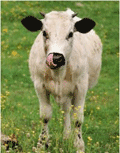 At this year's Calgary Stampede annual Beef Cattle Showcase officials will exhibit the impact that technology, such as RFID, has on food safety in beef cattle industry. Stampede officials will demonstrate how RFID technology makes it possible to protect beef supply by tracking cattle and quickly identify dangers that could expose their cattle to disease.
Organizers will also be setting up a chute system for visitors to walk through, and have their own tag scanned at the end. The exhibit is complete with tagging demonstrations and personalized ear tags to take home.
Cattle cannot be sold or hauled without one of these tags, notes Wayne Hanson, chairman of the Stampede's Beef Cattle committee.
The 10-day event takes place July 9 – 18, 2010 in the Agriculture Building's Main Barn, Calgary, Alberta, Canada.
Read more here.