Another RFID-enabled bike system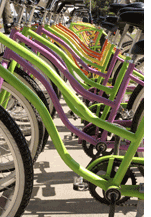 Montreal joins the list of (often French-speaking) cities using RFID technology to create a public bike system. The Canadian city's system, logically called the Public Bike System (PBS), takes the employment of wireless technology a bit further than the Paris-born Vélib systems described on RFIDnews.org last week.
The PBS system revolves around a series of easily-assembled modular platforms, each one with a capacity to dock six bicycles. The platforms can be combined to create rental stations of any size, fitting consumer demand in specific locations. The platforms can also be easily disassembled, leaving no permanent traces behind.
The platforms use RFID technology to communicate with a software system, which in turn feeds a Web site. Via the site, the users can keep track of what bikes are available at what locations throughout the city, and request a specific bike. The bikes can be rented for any length of time via the website, and payments can be made via credit, debit or member cards.
As a final bit of eco-friendliness, the PBS platforms are solar-powered.