Antiquated Item Pricing Laws counteract potential RFID savings in many states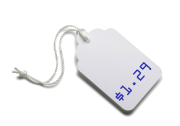 Old school price tags requirements create redundant expense for retailers and higher prices for consumers
By David Wyld, Contributing Editor
This morning, you can take a time travel adventure without leaving your desk. We can go "back to the future," to the grocery store of our Baby Boomer youth. There, you can pick-up a can of beans with a price sticker that reads sixty-nine cents. Then you can take that can to the checkout line, and a real, live it price manually on her register.
Believe it or not, for many this scenario is not a dream in the year 2007. Rather, it is a very real nightmare for retailers. In a significant part of the United States, grocery stores – and many other categories of retail stores – must still place individual price tags on almost every item they sell. This is because of state and local laws, commonly referred to as "item pricing laws" (IPLs). These regulations were largely enacted as consumer protection measures in the 1970s and 1980s to protect against overcharging due to checkout scanning errors.
Yet, these laws are still in vogue. As late as 2005, New York City's Mayor Michael Bloomberg signed a law stiffening its municipal item pricing regulations. IPLs have been supported by not just consumer advocates, but by retail and grocery workers' unions, who see the laws as protecting outmoded jobs. Currently, item pricing laws are in place in ten U.S. states:
Arizona
California
Connecticut
Illinois
Massachusetts
Michigan
New Hampshire
New York
North Dakota
Rhode Island.
Additionally, item pricing laws exist in several large metropolitan areas in otherwise non-IPL states, including Chicago and Philadelphia. In Michigan, the state's IPL covers almost every item priced 30-cents of more for sale in any retail outlet. In other states, IPL laws are restricted to food stores only. In Connecticut, retailers are exempted from that state's IPL if they install electronic shelf labeling systems (at a cost well in excess of $100,000 per store).
The laws are designed to give the consumer recourse in the case of scanner error, being able to point to the physical price tag on the item as the incontrovertible "truth" in pricing. Yet, while most of us have encountered scanner errors personally, the truth of the matter is that they are increasingly rare – and often in our favor.
The U.S. Federal Trade Commission (FTC) has conducted the most comprehensive research on scanner accuracy to date. In its "Price Check II" study, the agency's researchers checked prices of more than 100,000 items at more than 1000 stores. They found that one out of every thirty items was incorrectly priced, with undercharges occurring just as frequently as overcharges. In fact, the grocery industry outperformed the general retail industry, where errors occurring on approximately one out of every twenty-five items scanned. As point-of-sale (POS) systems have improved, however, scanning errors are not just becoming less frequent, they are also far less than a casual observer might expect – typically less than 1% of the retail price.
A hidden tax on consumers
Item pricing laws have been aptly categorized by researchers as a "hidden tax" on consumers, because retailers in item-pricing states pass the compliance costs on to customers. In truth, this is because there is a fractional cost of labor added to every product sold in the store in an IPL state. Indeed, retailers' costs are high – both in terms of compliance efforts and fines for non-compliance. The average grocery store sells more than 5 million items each year, and in larger retail venues, that may double or even triple. With the need to apply price labels to the vast majority of these items, economic analysis has estimated that IPLs add between six and eleven percent to the overall labor costs of grocery chains operating in these locales.
Christopher Flynn, the President of the Massachusetts Food Association, recently stated that his organization estimates that it costs an average grocery store between $150,000 to $300,000 annually to comply with that states' IPL. The regulations also restrict the ability of retailers to change prices, due to the fact that price changes necessitate additional physical labor. Indeed, analysis has shown that stores in IPL states change their prices far less frequently and place fewer items on sale than their counterparts in the rest of the country. Thus, rather than saving consumers money from the specter of inaccurate scanning, IPLs may restrict their ability to participate in sales and promotions, exacting another cost on consumers and retailers in these select states.
The impact of item pricing laws has been proven in scholarly research on the subject. In fact, a major study on the effect of item pricing laws was just published in the Journal of Law and Economics. In this project, the researchers compared over three thousand prices in the tri-state region around New York City, tracking prices on like items in:
New York (an item pricing state)
New Jersey (a non-item pricing state)
Connecticut (an electronic shelf labeling state).
The researchers found that prices in markets where item pricing was required were between 20 to 25 cents higher than prices on like items in states where item pricing was not required. In Connecticut, prices were found to be far less than in New York's item pricing environment. However, due to the costs involved in acquiring and maintaining the electronic shelf labeling systems, prices in this market were – on average – ten cents higher than those found in non-item pricing markets. The lead author of the study, Dr. Paul Rubin, a professor of economics and law at Emory University in Atlanta, recently pronounced in The Wall Street Journal that "the laws are a bad deal for consumers."
As we rapidly approach the point where RFID labeling of individual items for retail sale will become both economically and technically feasible, item-pricing laws are an unfortunate reality that leading-edge retailers and the RFID industry – indeed the entire auto-ID community – need to be particularly aware of. Plain and simple – without repeal of these laws, there can simply be no ROI for RFID. Indeed, we will then have quadruple redundancy – shelf-level pricing (required in all states), item-level pricing, bar code labeling, and RFID tagging of items. Still, retailers and the RFID industry must be mindful that rather than seeing these laws as being even more outmoded with the introduction of RFID tagging of products, there will be a significant segment of the population that will see the simple, old-fashioned, ink-on-paper-on glue price tag as being even more essential with the new technology. Sadly, if a consumer doesn't trust optical scanning, they are unlikely to have any more faith in radio waves.
Thus, it will be incumbent for those in the retail and RFID industry to engage in consumer outreach and educational efforts to calm the fears of consumers and educate the general populace on the benefits that will come from the RFID-enabled "store of the future." To make that store an economic reality, however, it will take legislative-level outreach and lobbying efforts to make certain that laws promoting 19th century product labeling will not hinder the adoption of the technology of the 21st century in any state or locale.
---
David C. Wyld ([email protected]) is the Robert Maurin Professor of Management and Director of the Strategic e-Commerce/e-Government Initiative at Southeastern Louisiana University.