AOptix: Iris could ease domestic air travel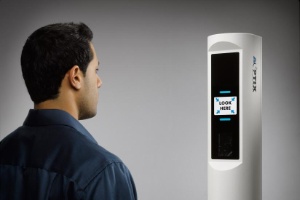 AOptix Technologies Inc. is touting the use of iris recognition to authenticate passengers and secure air travel. With an alternative approach to pat-downs and full body scans, AOptix says iris biometrics can reduce wait time and help relax the anxiety associated with the security screening process.
The notion of a registered traveler is not new to domestic travel. Willing individuals register their biographic information, submit to a background check, and are enrolled with a biometric identifier that can be used at a later date to verify their identity as they are expedited through the typical security screening process.
AOptix InSight iris recognition system Operates at a distance of two meters and can capture a high-quality picture of an iris in less than two seconds. Travelers of all heights simply sit or stand in the large .75 cubic meter capture zone, look at the device, and open their eyes. Iris recognition also takes 5% of the time for typical full body scan or manual pat-down.
AOptix has several immigration and border control trials in place where iris recognition is being used for identifying and authenticating travelers in the U.S., UK, Europe, and Middle East.