AOptix launching long-range iris biometric product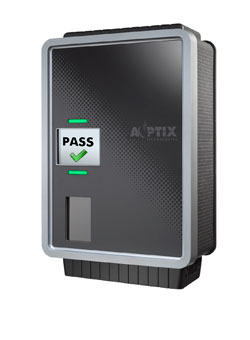 System demonstrations available in D.C.-area March 2-6
AOptix Technologies Inc. will roll out its first iris-at-a-distance product next week in Washington. The Campbell, Calif.-based company is holding an open house in Crystal City, Va. to demonstrate the product to system integrators, consultants, end users and the media.
AOptix is a Silicon Valley startup founded by astronomers from the University of Hawaii, says Phil Tusa, the company's vice president of biometric programs. The astronomers were working with adaptive optics for deep space imaging, "to improve imaging quality by correcting for the atmospheric disturbances," he says.
In 2006 the company decided to take the technology and apply it to iris biometrics. By using adaptive optics the company is able to correct for a subject's motion and gain better focus, Tusa says. The system is also able to capture both iris images from a distance of 1.5 to 2.5 meters.
Iris-at-a-distance and iris-on-the-move are emerging sectors in the biometric market. Aoptix is different with its concept of operations, says Tusa. "Our concept is to ask the subject for two seconds to look at the device and open their eyes," he says. "This will greatly improve matching accuracy results and we're not going to have bad images."
Other products don't have this requirement, but by asking for it AOptix says it can get better images and lower the failure-to-acquire rate, Tusa says. The system can also communicate with the user and tell him where to stand. With systems that don't require a user to stop this would be problematic. The Aoptix device can capture iris images and facial images at the same time.
Tusa says AOptix is focusing on the physical access control, registered traveler, aviation security, national ID and border control markets for its technology. Law enforcement is another market.
The first products will ship in April, Tusa says. Most of the first systems are going for pilots and other demonstrations. Final pricing hasn't been released, but Tusa says the system is more expensive than high-end fingerprint scanners like those being used for U.S. VISIT, but lower than iris-on-the-move devices.
If you would like to see the product in action, AOptix is hosting an unveiling and demonstration in Arlington, Va. March 2 through March 6. For details on the event or to reserve your slot, click here.
A video about the device is also available from an interview done at the Biometric Consortium Conference.