ASK and IDECO to create a joint venture in South Africa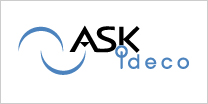 ASK and IDECO announced that they have entered into an agreement for the creation of a company based in South Africa. The duo has already achieved success, playing a major part in the Gautrain ticketing project, which was launched during 2010 FIFA World Cup.
The joint venture will address the transportation, access control and secure documents' sectors to offer end-to-end solutions to clients, from the database management, to the hardware and software components of a contactless ticketing system including contactless smart cards and tickets.