Asset management and tracking becoming more affordable for mainstream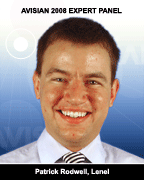 Patrick Rodwell,
Product Marketing Manager, Identity Solutions,
Lenel Systems International Inc. (A UTC Fire & Security Company)
As the Smart Card industry continues to consolidate, and falling aggregate costs of raw materials continue to support the decline in chip and card prices, the physical access and asset management industries are beginning to consider the smart card as a cost effective solution on a broader scale.
On another note, RFID tags are continuing to grow in popularity in large warehouse and shipment tracking systems and high-value asset management.
As the latest RFID specs are released and costs continue to decrease, the usage of tags as tracking devices within smaller-scale implementations is becoming a viable option for many organizations.
There is an exciting emerging product market that utilizes both technologies congruently to attach assets to individuals for tracking and monitoring within physical access control environments.
We are seeing products such as "smart printer storage" and "intelligent supply cabinets" reach affordable mass-adoption pricing structures. By attaching an individual's smart card credential to RFID tags on specific assets, the possibilities for assimilation into physical access control monitoring applications are opening up options that were previously cumbersome and costly.
For example, a lab administrator for a major hospital can monitor area access by lab employees while tracking which badge identities are utilizing certain high-value medications with attached RFID tags. As more manufacturers release hardware devices with RFID capability and smart card technology continues to become a mainstream option, we look forward to expanding support for advanced asset tracking and management capabilities within our physical access control products.
---
About the AVISIAN Publishing Expert Panel
At the close of each year, AVISIAN Publishing's editorial team selects a group of key leaders from various sectors of the ID technology market to serve as Expert Panelists. Each individual is asked to share their unique insight into what lies ahead. During the month of December, these panelist's predictions are published daily at the appropriate title within the AVISIAN suite of ID technology publications: SecureIDNews.com, ContactlessNews.com, CR80News.com, RFIDNews.org, FIPS201.com, NFCNews.com, ThirdFactor.com, and DigitalIDNews.com.