Astral brings NFC to adverts in Toronto, Montreal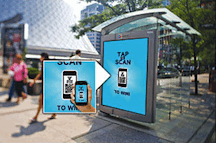 Astral Out-of-Home, a division of Canadian media company Astral Media, has announced the addition of NFC technology in its street advertisements throughout Toronto and Montréal.
The new feature, developed in partnership with Gauge Mobile, enables smart phone users to tap their handsets against an ad to watch the trailer of an upcoming movie, get a discount coupon for a local retailer, visit the virtual showroom of a car dealership and more.
NFC tags will be integrated into bus shelters in Toronto, and the company's Column and MegaColumn street displays in Montréal.
"Consumers are very active and increasingly demanding, and our NFC-enabled street furniture will allow them to quickly get relevant information about products that they like," said Debbie Drutz, Astral's Director of Media Innovation.