Atmel's unveils secure microcontroller certified for e-passport applications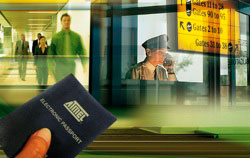 Atmel Corporation today announced that FIME, an independent third party laboratory, has certified the Atmel AT90SC28880RCFV secure microcontroller (MCU) as compliant with ICAO (International Civil Aviation Organization) Radio Frequency Specifications and ISO 14443 RF.
Additionally, a FIME laboratory banking test shows that the device has up to 100 percent interoperability with a list of 32 readers.
According toJ ean-Pierre Enguent, application manager for contactless products at Atmel, the AT90SC28880RCFV chip provides extended radio frequency capabilities, computational performance and low-power consumption.
"The product targets applications including Extended Access Control within e-Passport programs and governmental ID cards. In addition, the Atmel secureAVR-based microcontroller is designed to be Common Criteria EAL5+ certified."
Atmel's AT90SC2880RCFV samples are now available in DIL packages and dual-interface micromodules.