Austrian city creates digital public library using NFC tags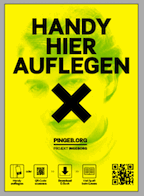 The Austrian city of Klagenfurt is building its first public library using nothing but NFC tags and QR codes, according to Engadget.
The Project Ingebord initiative has placed 70 NFC and QR code stickers (pictured) around the city, each containing a link to a freely downloadable public domain work via Project Gutenberg and other free e-book providers.
In many cases, the book contained in the tag is relevant to its real world surroundings. For example, the tag linking to Arthur Schnitzler's The Killer can be found near the police station.
Starting this August, Project Ingebord will begin partnering with "local talent" to distribute more books, music and other digital content, according to Engadget.
Read more here.