Avoiding facial recognition— and a 1984-esque reality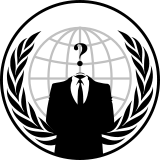 In the wake of widespread public surveillance and alleged identification technologies like facial recognition, concerns for individual privacy may out-weigh those for state security.
Made famous by their efforts to promote personal identity, "hacktivist" group Anonymous has produced a video detailing ways to avoid facial recognition and cyber-surveillance.
In a video entitled "Fighting Trapwire," Anonymous lists some simple methods that effectively foil facial recognition software and ensure the identity of the public remains undetected. Trapwire was mentioned in a WikiLeaks report stating that it was being set up to monitor and identify individuals using public surveillance systems. There's no confirmation that such a system actually exists.
For some, avoiding facial recognition technology seems simple enough. Wearing a mask may seem like the magic bullet to foil all surveillance. However, Anonymous states wearing a mask carries certain social implications and does not account for biometric authentications like iris recognition.
A more creative, though considerably less comfortable, solution to foiling facial recognition is tilting one's head 15 degrees to either side. Facial recognition is an advanced technology to a point, as limits in certain programming will not recognize the presence of a data face if tilted.
Taking the mask idea a step further, Anonymous suggests that strategically placed makeup could confuse facial recognition technology. However, this solution along with tilting your head could create unwanted social spotlight.
More subtle solutions do exist. Many surveillance cameras are extremely sensitive to laser pointers. So much so that a tactically placed laser pointer could render a surveillance camera useless. However, this method could prove tedious as one laser pointer can only affect one camera.
Anonymous final solution expands on the idea of light to creatively circumvent camera surveillance while sparing the social attention of the previous options. By placing led lights into a hat, powered by a 9-volt battery, the wearer's face is concealed by the light leaving them anonymous.
Creative solutions to a complex problem? Or futile efforts against an authoritative juggernaut? Anonymous believes the public is not helpless.
Decide for yourself. Anonymous' video can be found here.