Bad news at the baggage carousel is good news for RFID
By David C. Wyld, Contributing Editor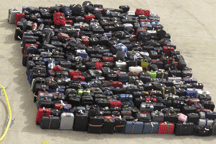 On-Time Arrivals
Denied Boardings
Mishandled Baggage
Customer Complaints (including flight problems, reservations, fares, refunds, disabled passenger issues, animal handling, etc.)
The Airline Quality Rating score is based on a formula combining these four measures. Based on the 2006 data, the best-rated US airlines were Hawaiian, JetBlue and AirTran, while the worst rated were three regional carriers – Comair, American Eagle and Atlantic Southeast. Overall, AQR scores for the industry have declined significantly over the past five years, and worsening baggage handling statistics are a major reason why. In fact, US airlines performed considerably worse in successfully delivering checked luggage in 2006 than in the previous year, losing almost a half a bag more per thousand passengers.
Surveys have consistently shown that misdirected, delayed and lost baggage is a major headache for both the airlines and their passengers. Tales of airline customer service are often intensely personal ("I'll never fly XYZ Airlines again, after they lost my bags for five days with all my skiing clothes and ruined my Colorado vacation!"). While they are anecdotal in nature, they quite often grow in magnitude as they are passed along, both in person and today, via blogs and email. Sometimes though, baggage woes are systemic, as was the case with the 2004 "Christmas nightmare," when US Airways baggage systems were overwhelmed with holiday traffic and weather. Quite literally mounds and mounds of misrouted baggage – over 10,000 pieces – accumulated at the carrier's Philadelphia hub and were broadcast over and over and over again on news outlets. After the 2006 air terror scare, when the US Transport Security Administration put in new restrictions on carry-on liquid items, more and more flyers have elected to check their bags rather than deal with the new security procedures at airport checkpoints. This means that today, US airlines are handling anywhere from 10-20% more checked bags than in prior years, further exacerbating their baggage handling problems.
While the business case is there, the question remains as to whose business baggage transport really is? There is no question that there are multiple stakeholders in the need to successfully identify, track and ultimately deliver checked baggage. Not only do air carriers and passengers have a stake in having better and more secure baggage tracking, but so do airports and public safety officials (and, by extension, society and the economy as a whole). Also, as airlines baggage problems have worsened, they have spilled over to affect other travel-related businesses, including cruise lines, hotels and rail lines, which depend on successful delivery of both passengers and their luggage to their sites for successful enjoyment/delivery of their services. Passenger doubts about the airlines' abilities to deliver their luggage have led to increased business opportunities for companies such as FedEx and UPS, along with a number of rapidly growing third-party service providers who employ shipping companies to assure "door-to-door" delivery of air travelers' luggage – for a fee.
Indeed, aside from an early trial by Delta in 2004 and pilots abroad (Air-France-KLM and Asiana), the majority of the focus on RFID to date has been on the part of airports seeking to differentiate themselves through better baggage service, most notably the highly publicized installations at Las Vegas' McCarran International Airport and at the Hong Kong International Airport. According to the analyst firm IDTechEX, as of early this year, twenty-four airports around the world are either conducting trials of RFID baggage tracking systems or putting such installations in place. Airports are increasingly competing to become gateways for both passengers and air carriers, and they see smart baggage tracking systems as a way to distinguish their airports from a service and cost perspective.
Airlines now have the ability to seriously consider piloting and implementing RFID-based luggage tracking, given the recovery of the industry as a whole. Such systems may be a key-differentiating factor for airlines to reverse their poor customer service. Indeed, in local markets where RFID-based baggage systems are trialed, either alone or in conjunction with an airport partner, the piloting carrier can market the fact that such service is unique to the market. And, the first carrier that makes the leap to a system-wide RFID implementation will likely enjoy a significant first-mover advantage in this competitive marketplace, giving them a benefit to tout to customers and enabling them to differentiate their airline through improved service rather than price in what has been an intensely fare-conscious traveling public.
However, RFID-based systems do have significant cost benefits as well, as the ability to more accurately route and track baggage will enable airlines to significantly reduce their expenditures compensating passengers for delayed, misdirected and lost baggage, while reducing the labor needed to manually intervene in the baggage handling process to read tags and correctly load baggage on the proper flights. Additionally, airlines and their passengers will see significantly fewer flight delays caused by the need to reconcile passengers and their checked luggage – as RFID-based systems could quickly locate a specific bag of a non-boarding passenger in the cargo hold of an aircraft, rather than what is today a process that can cause delays of an hour or more as bags are manually inspected in aircraft cargo holds to find one or two suspect pieces of luggage – bags that could indeed represent terrorist threats.
While US airlines do have significant capital expenditures on the horizon in terms of fleet replacement and refurbishment to meet the needs of today's business and leisure travelers, it is unlikely that any investment could pay greater financial and customer satisfaction/loyalty dividends than shifting to RFID-based luggage tracking, especially in light of the global IATA standards that are in place. Even with competing needs for resources, it is time for airline executives to tackle head-on their intractable problem of baggage handling by implementing RFID technology.
---
About the author
David C. Wyld is the Robert Maurin Professor of Management and Director of the Strategic e-Commerce/e-Government Initiative at Southeastern Louisiana University.