Bank of America to roll out EMV credit cards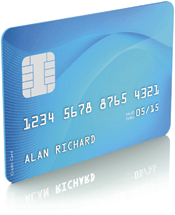 Bank of America has announced that it will be releasing consumer credit cards containing chip technology.
The chip technology, also known as Europay, MasterCard, and Visa (EMV), has already gained popularity abroad, and uses an embedded microchip and PIN to validate the card, consumer and payment transaction in lieu of a signature.
The Bank of America cards, which began shipping on July 23, offer customers improved security and fraud prevention as EMV point-of-sale terminals require only a PIN and eliminate the need to hand the card over to a cashier.
The chip technology will be included in all new Merrill Lynch, U.S. Trust Accolades, BankAmericard Travel Rewards, BankAmericard Privileges, and Virgin Atlantic travel credit cards, with plans to upgrade all existing customers in these programs identified as international travelers.
Additional card programs- BankAmericard Cash Rewards, BankAmericard Power Rewards, BankAmericard, AAA Members Rewards, NEA, Asiana Airlines, Alaska Airlines, Hawaiian Airlines, Royal Caribbean and Norwegian Cruise Lines- will provide the chip technology at the request of the cardholder.
The cards are available upon request at banking centers and via phone with online registration set to begin later this year.