BarMaxx liquor control installed at bar operations in South Florida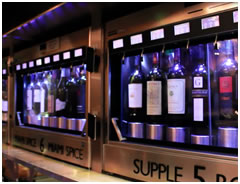 MaxxTechnologies announced the introduction of BarMaxx, a complete liquor inventory management system enabling precise tracking of liquor from stockroom, top shelf and speed rail, through integration with point-of-sale (POS) stations.
BarMaxx merges RFID technology to track every drop of liquor – down to 4/1000th of an ounce – to provide an advanced understanding of liquor control and bar operations in bars, nightclubs, restaurants, hotels, casinos, clubs and sports venues.
Automated, real-time tracking eliminates manual inventory counting time and expense, while simultaneously lowering the cost of liquor inventory stocking with just-in-time ordering and automated low stock level prompts.
BarMaxx is both Web and mobile-compatible, enabling ownership and management and take immediate action while on the go and online reporting enables informed decisions to be made with confidence.