BART riders get on board with NFC

By Andy Williams, Contributing Editor
As interest in near field communication grows around the globe, so does the interest from transit agencies. The Bay Area Rapid Transit (BART) in San Francisco is an early adopter, examining the technology to see how it works in a transit environment.
"BART is, in essence, the first transit agency in the country to deploy NFC technology which will not only allow patrons to buy tickets, but also to purchase other things," says James Fang, a member of BART's board of directors. "I'm very excited about what this technology represents."
BART serves 370,000 riders daily or about 100 million riders a year, says Fang. The average commute is 10 miles along BART's 97 miles of rail. The 35-year-old agency serves three counties in the bay area – San Francisco, Alameda and Contra Costa-and is operated by an elected nine-member board consisting of three members from each of the three counties.
In January, 230 BART riders were given a Sprint-provided, NFC-compatible phone to use as the method of payment when riding the rails. The same phone could also be used to make purchases at Jack-in-the-Box restaurants or at any merchant capable of accepting contactless payment cards, such as those offered by MasterCard, Visa and American Express.
The NFC trial participants were chosen from a pool of BART's EZ Rider users. The EZ Rider card is contactless, which meant the learning curve would not be as great, says Dave Holmes, NFC business development manager for NXP, the company that developed the technology in 2002 along with Sony.
Holmes says there was "a brief orientation done for the trial participants. They also had to swap out their phones and get their address books moved over. We then showed what they were getting involved in."
For Fang, BART's longest-serving board member, it was an eye-opening experience. He was familiar with the technology from the agency's press conference two-years ago addressing it as a possibility. Some newspapers called it a "fantasy phone," Fang says. "At the time our research showed NFC was in limited use."
It still is, but that didn't stop BART from exploring it further. "You've got to give so much respect to the staff and Sprint. They came forward and said it was a great idea. They just accelerated the process, and I was surprised at how fast it came about," says Fang.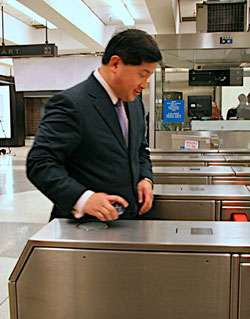 James Fang, a member of BART's board of directors pays for a ride with the new service.
The main purpose of the four-month trial is to determine whether consumers like it. Early indications are that they enjoy using it. Fang says BART is recording about 165 to 175 transactions a day with the NFC phones. "Of the 200-plus that have been given out, just about everyone is using it daily," he says. "From what I've heard, they all love the phone."
Using a phone for payments seems like a logical progression, Fang says. "There are about 280 million people in the U.S., according to one report I saw but there are 320 million cell phones in use. One of the things that's very striking is that everyone has a phone." That's why NFC use seems to be a no-brainer.
But he sees other advantages as well. "This is great for the environment," says Fang. "BART prints hundreds of thousands of paper tickets a year. Can you imagine if NFC takes off, the paper we'll be able to save?"
Another advantage is that NFC payments would avoid paper tickets getting jammed in the readers, which can cause lines at the turnstiles. "This is a big step towards eliminating that problem," adds Fang.
While BART may be the forerunner for NFC usage in mass transit, he sees the day when other transit agencies in major cities – Los Angeles, New York and Chicago – implement it. "With one phone, you could get on public transit, fly to San Francisco or New York, and the reader would read the same ticket or phone. You wouldn't have to buy extra tickets."
One of the partners in the trial, Jack-in-the-Box restaurant chain, enables those with the NFC-compliant phones to tap and pay. Fang says, "A lot of other national restaurant chains are very interested in working with BART and our team to promote this."
With the BART trial, Holmes explains, "There are two different cards on the phone. One is the BART card and the other is for Jack-in-the-Box which is just like a simple gift card."
First Data Corp manages the service. "On the BART side, it's being managed with BART's back-end system in conjunction with Speedpay, a bill payment site from Western Union," says Holmes. Users can go online to tie a BART card that's on the phone to a credit card.
Each test rider initially had $48 downloaded onto his or her phone through Sprint and payable by the customer's credit card. When the total dips to "$10 or $15, the phone is automatically reloaded," says Fang.
Reloading, when needed, can also take place when the person uses his phone, adds Holmes. "I know you can top it off at the cash register because if I need to add $20 to my Jack card, I simply touch my phone to the point-of-sales terminal," Holmes says.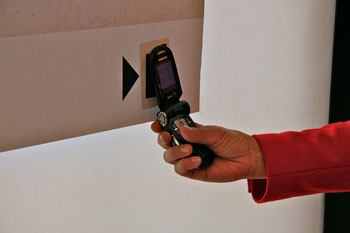 Another advantage that was implemented in the BART pilot is that riders can tap their phones against certain posters and get a list of all the locations of Jack-in-the-Box locations near that particular station, says Fang.
BART originally allocated $350,000 for the BART pilot, but because of contributions, says Fang, the agency has only spent $250,000 to implement the trial.
Better security is another advantage for the pre-loaded NFC phones. "If you lose your card, you're out of luck because there is no security. But with a phone, you can put in a security code and if you lose the phone, you can call the phone company to suspend use of that phone," says Fang.
After the trial ends, "My guess is that Sprint will make these phones available on a wide basis for anyone who wants them," adds Fang. Sprint was not available to comment on the pilot.
Fang says other mobile operators have made inquiries about offering something similar.
He predicts great things for NFC. "We can do it so you can start buying tickets to events, particularly those venues that BART travels to," he says. "You won't need to get a paper ticket. You can just show up at Giants or Dodgers stadium or a symphony and scan your phone."
Because the technology is still new, NXP's Holmes says he's received "lots of reaction when I touch my phone instead of a card to the terminal. It's usually the first time the clerk has seen someone pay with a phone and I get wildly positive remarks, including people calling their coworkers out of the back and making me buy another item just so they can see it in action," Holmes says.
He says there is "something like 40 million contactless cards that have been issued and 80,000 merchant locations that can accept them, so any of those will accept payment with a card or my phone."
He says NXP and the other involved companies are still gathering information – including surveys and focus groups-regarding the trial. "It wraps up in May and the findings will be aggregated and put together. Whether the results become public or not will be up to the companies involved," says Holmes.
The security of the device is typically a users' first concern. "As soon as you educate the people on how the technology works, people become comfortable enough to participate," adds Holmes. And usually, at the end of a trial, "they don't want to return the phone."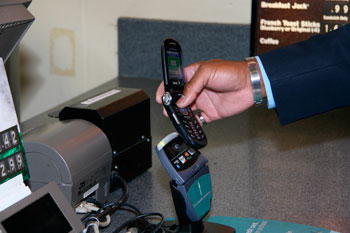 Wide-range commercial deployment for NFC seems a given, but how soon will that happen? "When you're involved day-to-day, it seems it can never happen soon enough," says Holmes. "But we're pretty much on par, maybe even progressing faster than other technologies, such as Wi-Fi."
"NXP is pretty optimistic and that we expect to see some commercial roll outs in 2008 and multiple roll outs in 2009," adds Holmes, though he declined to provide specifics.
Phone availability is delaying more rapid commercial deployment, Holmes says. "You have to start from scratch because the NFC chip goes on the motherboard. I've seen increasing activity from the big three in trials and pilots – Nokia, Motorola and Samsung, which provided the Sprint phones for the BART trial. They've been involved for a couple of years."
Also, he adds, "most phone manufacturers are ready for NFC; they're just not in the business of supporting 100-person trials. You need 100,000, and then the trials will take off and more phones will be available."